LAST HD POSTINGS:
11/14/2018 09:30 PM
Violet, have you had sex yet?
"Yes, a couple of times. As soon as my sex drive kicked in I was like, okay, my virginity has got to go! It wasn't hard for me to find a guy to have sex with, especially since I wasn't looking for a boyfriend or anything. I just wanted to have fun and see what it felt like to get fucked. Turns out, it feels pretty freakin' awesome.

"When I was a virgin and I would masturbate, I would fantasize about what it would be like to finally have sex. Now I've had sex, and when I play with myself I re-live what it's like to have a cock sliding in and out of my pussy. That's why I get twice as wet now!"
LAST HD POSTINGS:
11/13/2018 09:30 PM
British boob-bomb Goldie Blair creams her tight and firm busty bod and then takes her red fuck toy and vibrates her English cunt, climaxing in a noisy orgasm.

Goldie doesn't speak, so we don't get to hear her sexy English accent, but she does scream loudly as the Doc Johnson marital aid does the trick. "When a vibrator or a cock rubs against my clit, it doesn't take long for me to cum hard," sais Goldie, a SCORE model since 2004.

Goldie's 34E-cups are her pride and joy. "I love everything about big tits. I've read SCORE and Voluptuous magazines and I love to watch videos of busty girls. I masturbate with a toy while I look at them. The bigger the boobs, the better, especially when they bounce!"
LAST HD POSTINGS:
11/13/2018 09:30 PM
Let Me Help You With Your Shoes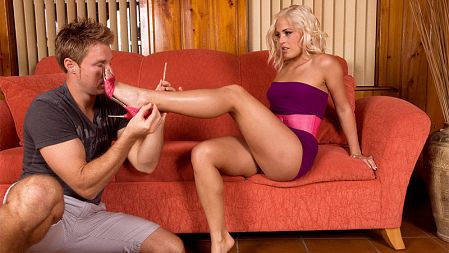 "It's funny how opportunities arise when you least expect them. I was hauling a bunch of my shoes out in a bag so I could donate them to a charity when the bag broke open and my shoes came tumbling out all over the sidewalk. But then, my neighbor stepped in to rescue me and helped me carry everything back inside. Curiously, he seemed really interested in my shoes. And that's when I knew that he was being more than just helpful...that horny pervert wanted to stick his cock in my shoes and my pussy. I let him come on to me. After all, I love it when men play with the bottoms of my feet. They're really sensitive. And cum always makes them feel so soft and silky smooth. So you see, opportunity came knocking and I opened the door and my pussy for it. You know what they say, out with the old and in with the new cock!"
LAST HD POSTINGS:
11/12/2018 09:30 PM
"Obviously, if a guy likes big breasts, he'll be attracted to me initially," says Sofia Rose. "I've also converted some guys to ass men because I'm blessed in that area, too. I've even had guys who had never dated ethnic women decide that they like Latin women."

Beautiful Sofia wants to play a little rough. She mounts Largo and rides him, grinding on top. Sofia is feeling dominant and in control. Her lap riding is leading to hard feelings. Her big breasts are hand magnets. She knows how to rub a man the right way. Juan squeezes and spanks her round ass-cheeks. Sofia loves that and wants another slap.

Sofia's tits fall out of her monokini top, two immense knockers that even the Jolly Green Giant could not palm. Largo sucks Sofia's brown pointers and buries his face in the deep divide of her super-natural super-breasts. She turns around and sits on his face, one of her specialties. Guys love that.

Sofia kneels on the floor between his legs. Juan stays in bed. Pulling his prick out of his shorts, Sofia engulfs it between her lips and sucks hard, making contented sounds. She takes her twin pillows, so big they deserve their own area code, and squishes his tool between them. It disappears. Sofia gets back on the bed so Juan can straddle her chest and slide his cock into her cleavage from this position. Again it disappears.

Standing up on the bed, Sofia is fed cock again. She keeps her hands by her sides as he pumps in and out of her mouth. He gets back on the bed and beckons Sofia to get on top. Her bottom is pulled aside for clear access to her tight pussy-hole and the cock slides in. Sofia immediately grinds fast and hard. She's lovin' it. What man would not be intoxicated by Sofia's sex games?
LAST HD POSTINGS:
11/12/2018 09:30 PM
London Andrews never did hardcore XXX modeling anywhere else. A smoking-hot girl with great big boobs and a great ass, she returned to her nomadic lifestyle of posing for glamour and fetish private photographers around the USA.

London is fantastic at handwork. "I paint murals and create beautiful things. I also enjoy traveling, getting naked for photographers and meeting people who live outside the box," said London, who enjoys events like Burning Man and other alternative lifestyles.

London combines sexuality and eroticism. She's a happy-looking man-pleaser and she has a natural, girl-next-door appearance that hasn't been lost as she piles up her nearly countless photo credits all over the USA.
LAST HD POSTINGS:
11/11/2018 09:30 PM
Workin' At The Big Tit Carwash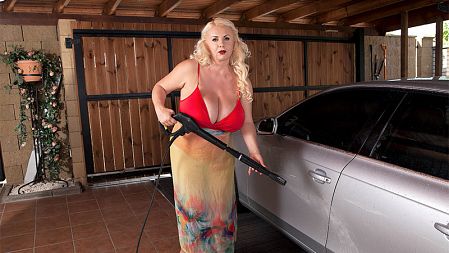 Marissa Kert does a fine job washing the photographer's car and an even better job soaking her giant boobs. She's a dominatrix, but she didn't whip him so he described her as "very nice."

Marissa said she can be either sexually assertive or passive depending on the situation. Several members commented that they'd like to see Marissa in one of her Latex fetish outfits, but unfortunately she didn't bring any with her.

Marissa has 38J-cup tits. She lives in Switzerland, a nation not known for big-breasted women. If there are any other girls built like Marissa living there that we should know about, please enlighten us. We'll be on the next flight to Switzerland to bring them home to SCORE.
LAST HD POSTINGS:
11/10/2018 09:30 PM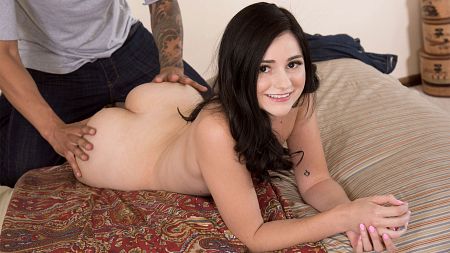 Age: 19; Born: July 2; Ht: 5'6"; Wt: 121 pounds; Bras: 32B; Panties: Usually thongs; Anal: Nope; BJs: Swallow; Masturbate: Sometimes; Lives: Scottsdale, Arizona.

Violet is a teen-lover's dream. Her doe eyes, small tits and tiny body are perfect for ball-draining fuck sessions. Don't believe us? Take a look at the evidence, seen here. "I was a prude back in the day, but that's not me anymore," she told us. "Now I'll do just about anything.

"I'm pretty good at giving blowjobs, but I still struggle with big cocks. My first boyfriend had a normal-sized dick, and I perfected my technique with him. I'm a nerd, so I used the scientific method to teach myself how to give good blowjobs. I sucked him every day for a week, figuring out what made him cum fastest. Now I'm practically an expert.

"I fucked your stud the same way I fuck in real life. I love putting on a show, and that's true even if I'm only performing for the guy I'm with. I don't have big tits, and I don't do anal, so I figure I might as well give my all every time I screw. I always like to do at least three positions, and I like telling guys that they can cum wherever they want.

"Your stud was awesome! I'm so glad I'm doing porn now because I can only fuck guys who know what they're doing. I had a streak of boyfriends and hookups who busted in under a minute. That's fucking weak! I need at least fifteen minutes of penetration if I'm going to cum, and if I'm not going to cum, what's the point of fucking?"
LAST HD POSTINGS:
11/10/2018 09:30 PM
The Boob Bliss of Miss Blossom
"Demmy Blaze told me about SCORELAND," said sweet coed Cheryl Blossom, a girl with an incredible student body. "I became a webcam model when I was almost 19 years old but I just started my career as a photo and video model recently. I enjoy being a webcam model. I regularly meet very unusual people there."

We thank Demmy for giving Cheryl the good word about SCORELAND.

"I started to wear clothes with a low neckline just recently. Earlier, I tried to hide the size of my chest to feel more comfortable. Now I like clothing with a low neckline, although I don't think that in order to draw attention to my breasts I need to wear something special."

Cheryl is not shy about being topless. As time goes on, she'll become more and more comfortable.

"By the 8th grade, I had the biggest breasts in school. I was constantly teased so I didn't understand for a long time that big breasts are beautiful."

And so Cheryl has blossomed. She's a looker and her boobs are perfect and beautiful.
LAST HD POSTINGS:
11/09/2018 09:30 PM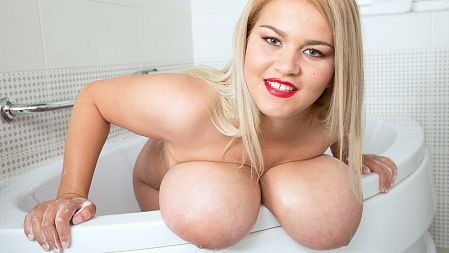 The bathroom is tiny. There's hardly enough room for Erin Star's big tits, but if you squeeze in, the two of you should be a perfect fit.

When you talk to Erin, you are also talking to her sister Helen, whether Helen is actually with Erin or not. They have sibling telepathy.

"We don't like tight clothes," said Erin when we talked to her during the On Location North Coast shoot. "Nothing that shows off too much. We like loose clothes."

What they really like is to be bare-ass naked as often as possible.

Helen tends to complete Erin's sentences and vice versa.

"Everybody looks at our boobs," Helen said.

"Like they are shocked!" completed Erin. "Women and men admire us. We can't go anywhere without getting attention, even when we wear loose clothes."
LAST HD POSTINGS:
11/09/2018 09:30 PM
Tits, Tugs & BJ By Diana Frost
Diana Frost takes things into her own hands in this P.O.V. Tits, Tugs & BJ, yanking and cranking the cock, cleavage-crushing it and sucking and licking it until his balls empty all over her big, natural boobs, leaving a sticky mess. Diana will not let him pull his pud himself while shooting his load, as many studs often do. She has to be the one to make him erupt like a volcano. It's a point of honor.

"I like my boobs played with hard," said Diana, who's never modeled before. "Some guys only like to play with my breasts because they say they've never seen breasts so big. I like to hear a man groan when he has an orgasm on my breasts. I find this enjoyable."

One of our model recruiters spotted Diana and knew she was right for SCORE. He's previously picked some of the greats in recent years.

"He wrote me on WhatsApp and told me about SCORELAND and invited me to Prague. He told me about the magazine and said it has been around for 25 years. So I thought, 'Why not? I have never done this before. No one ever asked me."
LAST HD POSTINGS:
11/08/2018 09:30 PM
Kiki Rainbow likes them thick. "Them" being flesh and blood cocks and toys. They must be thick to give her pussy the feeling of being filled-up and stretched.

"I masturbate a few times a week," said Kiki, who lives in Cleveland, Yorkshire. Kiki loves to swing her huge tits and she likes to swing at a swingers' club she visits. Her fuck friends have their hands full with those breasts.

"When I masturbate, I like to have nipple clamps on. I like to watch Lesbian anal play porn while I either stroke my clit with my fingers or use a vibe bullet to stimulate myself while I use a nice, girthy dildo in my very wet pussy."

Kiki brought one of her girthy dildos with her that she calls Billy Bob and stuck it in all the way to the hilt, pulled it out and repeated. No pencil-thin toys for this lady. She wants her cunt filled with big and fat toys and cocks and she likes to be watched by other people, one of the reasons she goes to swingers' clubs.

"I like to start slow and build up the speed until I feel a wave of pleasure rise through me. I know when I'm going to orgasm as my legs start to shake first and then my back arches as I moan and cum."
LAST HD POSTINGS:
11/08/2018 09:30 PM
JMac gives 44-year-old Gypsy Vixen everything he's got and Gypsy gives it right back in her second video fuck at 40SomethingMag.com.

She sucks his rock-hard cock, getting it as far down her throat as she can, and feasts on his balls. Then he pounds her tight pussy before turning his attention to her asshole, which, she says, hasn't had any in a while. But, like we said, Gypsy takes every inch, including in the lockdown position and then with her legs totally spread. We get great views of her ultra-pink pussy as JMac is pounding her ass. She has an analgasm. No surprise there. And then JMac cums in her asshole.

Gypsy, who's a divorced mother of three, could be a star. She has the porn star moves and she loves to fuck. Talk about a red-hot Latina...she's all that and more.

"When I'm in the mood, I'll watch some porn, get my vibrator out and masturbate until I have at least two orgasms," Gypsy said.

She has a lot more than two orgasms in this scene. But, of course, she wasn't keeping track.

"I like intercourse and oral," she said. "I'm curious about being a submissive."

Gypsy was born in New York City and lives in Texas. She measures a delectable 34-26-36. She puts it all to good use.
LAST HD POSTINGS:
11/08/2018 09:30 PM
Justine gets her hairy pussy banged
"I'm dominant and very sexual," said 53-year-old divorcee, mother and grandmother Justine, aka Goddess Justine, aka Badd Gramma. "I know what I want. I'm very intuitive. I can go with the flow."

This video opens with an interview, in which the blonde hottie tells us all about herself. Then the guy, who's young enough to be her son, shows up. He takes off her shoes and works his way up her legs. She sucks his cock, then he fucks her hairy pussy every which way on a couch. From her moans, Justine is obviously very into it. He's into her. We can tell by the way he unloads the contents of his balls all over her pretty face.

"I'd like to produce my own films some day, so I'm learning a lot but just enjoying being on this end of things," Justine said. "I've done a little producing. I know it's a lot of work, but I'm just going to continue enjoying my life and keep going out on my boat when I can and try to travel a lot more. I just got my passport at the tender age of 50. I've been to Thailand and Mexico and Paris, but there's a whole long list of places I want to visit.

"I think I'd like to do an all-female orgy with three to five women, at least. I love outdoor settings, so maybe we can be pagan goddesses in the forest with lots of vines and flowers. That sort of thing. And maybe there'd be a cabin and a stream and we could move around to various locations. Very nature-oriented."

That's Justine...a natural woman.
LAST HD POSTINGS:
11/08/2018 09:30 PM
Age: 25; Born: November 05; Ht: 5'4"; Wt: 115 pounds; Bras: 34B; Panties: Usually none; Anal: Sure; BJs: Swallow; Masturbate: I love my dildo; Lives: Cleveland, Ohio.

Kitty describes herself as a weirdo. What does that mean? "I was really slutty, but I got good grades and was a teacher's pet. It was a weird combo. I graduated with a degree in psychology so I could figure out how I could be on opposite ends of the spectrum; a goody-two-shoes slut.

"When I first watched porn, I immediately knew that I wanted to give it a shot someday. I loved how sexy the girls looked, and I thought the guys were hot, but I thought that everything looked kind of fake. I hope some other girls see my pictures and see that you don't have to be a blonde with big tits to look and feel sexy."
LAST HD POSTINGS:
11/08/2018 09:30 PM
The Hourglass Perfection of Tina Lee
Wrote S.L., who is ga-ga over Tina. "Tina Lee looks like a goddess. Her body is perfect. Many women would be jealous. Tina is like a Vargas girl come to life but with big, beautiful, natural breasts, just the way I like them."

Let us add again that Tina's tan-lines are very sexy. Her nipples always look erect.

"It's not easy for me to find swimsuits that fit me," Tina said. "My breasts are big and my derriere is not. So shopping can be difficult for me. To buy a bikini with a top and bottom that fits good and looks sexy takes time."

Tina is a striking girl with a lot of sex appeal. She knows she can have any guy eating out of her hand if she wants but she doesn't act like a diva. She's down to earth. "Very nice girl," wrote the photographer in his notes.

In a Bonus video, we follow Tina walking around and going shopping for an outfit. She knows what she looks sweet in, that's for sure.
LAST HD POSTINGS:
11/06/2018 09:30 PM
This Bad Gramma loves her fuck machine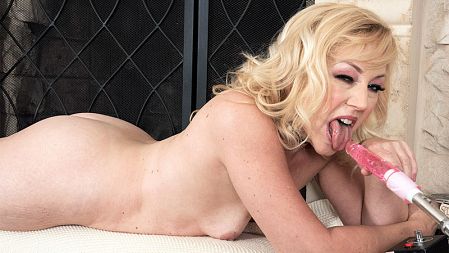 In her first video for 50PlusMILFs.com, 53-year-old divorcee, mother and grandmother Justine (also known on the Web as Badd Gramma) gets introduced to The Fuck Machine. She's very intrigued by this piece of machinery. It fucks her mouth and pussy. At one point, she gets on all fours so it can drill her hairy snatch from behind. All the while, Justine keeps up a steady stream of fuck talk.

We asked her if the people she knows would be surprised to see her here, and she said, "My friends from high school might, but those closest to me already know I'm a sex worker, as we like to call ourselves in San Francisco and elsewhere. I think everyone should be allowed to do this sort of thing as a job, legally, whether that means just posing for photos or actual prostitution."

She also said, "I really love sex and I love money, so it just seems like a natural fit."

Just like the dildo at the end of the fuck machine is a natural fit for her pussy.

Justine masturbates at least once daily.

"I like to lay the vibrator between my thighs so it's touching my clitoris while I stimulate my nipples. I often entertain a dirty fantasy while doing it and sometimes, at the moment of orgasm, I make a magical wish. I recently introduced my friend to a mini-wand style vibrator, and she's hooked! I can't believe she got to her 50s and had never experienced that. What a sheltered life that poor woman must have led."

But then she met Justine. Good things happen when you get to know Justine.

LAST HD POSTINGS:
11/06/2018 09:30 PM
A GND or girl-next-door, Marilyn White is exactly the kind of babe that belongs in XL Girls. She may be a girl-next-door but she's also got a kinky side to her.

"I'm into multiple partners, big tits, creampies, tit-fucking, big cocks and BDSM," said Marilyn.

Marilyn has some wicked fantasies. Naturally it's important to find out what they are. "My fantasy is to have a threesome with a guy and a girl and have the guy creampie me and the other girl so we can lick his cum out of each other. My other fantasy is to have a threesome with two guys and be DP'ed."

If it sounds like Marilyn watches porn, yeah, she does. And she spanks herself watching it. Even to her own videos and pictures.
LAST HD POSTINGS:
11/06/2018 09:30 PM
Isis Haze, a dancer from Wisconsin, was discovered by a Boob Cruise veteran who photographs stripper contests around the USA. She was the biggest-breasted girl at her home club, Silk Exotic, in Juneau, Wisconsin. She's won many national contests like Nudes-A-poppin' for her stage skills and wild costumes.

Isis has a special "winking" talent she shows off in the video. You'll see what that is around nine minutes in. Isis is a breast-oriented dancer. She knows all the boob tricks girls do on-stage. Lots of oiling too.

"I've been dancing fully nude. I started out like that right away," said Isis. "I know there's lots of posting on the Internet asking when I'm dancing. Their favorite trick is when I lick both my nipples. And then I lay two dollar bills down and pick them up with my titties. Guys definitely like that."
LAST HD POSTINGS:
11/06/2018 09:30 PM
"I like my men on the floor so that I can tower over them and slide and knead my perfect feet all over them. Although I do offer them my services as a masseur and they enjoy the ministrations of my dexterous toes, it is really all about the pleasure of having them moaning and sighing beneath me. My favorite part of massaging my lovers? Walking all over them with my stockinged peds, of course. The feeling that I get when I use them as my floor while I grind them into the ground is the best aphrodisiac for me. I feel like I am larger than life and that they are lowly and insignificant. I never hurt them, but I think that being walked all over is just a tad bit demeaning and that is what makes it so good for me. I am not averse to treating my men just a little bit like dirt."
LAST HD POSTINGS:
11/05/2018 09:30 PM
There is a time to lift cold, hard steel and there is a time to lift soft, heavy, hanging breasts. The soft, heavy, hanging breasts of one Alana Lace. While Mirko is busy doing curls with a hand weight, Alana Lace is watching him, and she is horny. No dumbbell, Mirko is not about to continue his curls with Alana throwing herself at him. Only a crazy man would keep exercising and ignore her love signals, which for Alana is showing a guy her big, bare tits and waiting for the chemical reaction in his balls to take effect.

Alana takes her much-loved boobs out of her tight top and shoves the pair into his face. You've got to love aggressive girls. They know what they want and they don't wait for the postman to deliver it. Alana's sex interest begins to feel the stirrings of manhood with such magnificent mams plopped on him. Unless a weight fell on his head, we'd expect no less. After all, he is our surrogate.

Alana lays back on the couch purring and moaning. Mirko pulls down Alana's tiny white panties to reveal her delicious cookie, wet and glistening. He stands up while the camera is framed on Alana's face and tits, and then his boner appears in front of her face. "My pussy's wet for you," Alana purrs in her dick-stiffening phone-sex voice. "Wanna give me that big cock of yours?"

What we love about Alana Lace besides everything: Her cock sucking is always wet, noisy and spit-loaded. After she blows a guy, she wants him to fuck her great tits then wants more cock in her mouth. Hard cock is Alana Lace's candy bar.

After her BJ and tit-fuck, Alana wants that bone in her pussy so she mounts it. Give Alana what she wants and she will make a guy's dream come true.