LAST HD POSTINGS:
10/16/2018 09:30 PM
Maria tells us about herself and fucks herself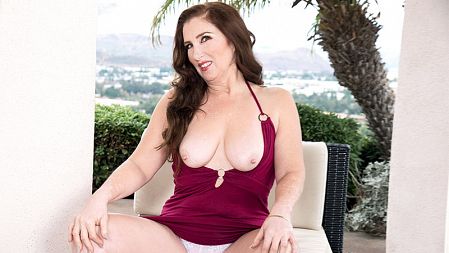 This video opens with 60-year-old wife, mother and grandmother Maria Fawndeli telling us all about herself. She's such a nice, pleasant woman. Then Maria takes off her dress and shows us how she likes to fuck her pussy with a dildo. She's such a sexy woman, too, and she loves to cum. She cums hard in this scene.

For those of you who like to fast-forward past the interviews and to the hot stuff (and we do recommend that you watch the interview eventually; getting to know these women makes them so much hotter), here are some of the highlights:

She and her hubby of 21 years are swingers. "We've experimented together. We've learned a lot together in 21 years. We've explored a lot of different varieties of sex. One of our things was, 'Don't knock it until you've tried it.'

"One of the things I'd like to try is playing dress-up, and I would like to be a graduate from college who gets together with another student and takes on the graduating class. I've never done a train. I've never done more than three men at a time, so I'd like to try that. Kind of like a gangbang, but respectful. You take breaks in-between. You enjoy it. You slow down instead of just one after another."

She's a truck driver.

"One time, at the fuel stop, I was flashing and my husband was taking pictures and we were enjoying that. Right in the fuel aisle! I got my naked butt out in my short little skirt and my high heels. I drive in heels with a short skirt, most of the time without any underwear. I once did a little striptease in the truck yard with my panties pulled down as I cleaned the windshield, bent over and standing on the truck engine. Bent over and having fun."
LAST HD POSTINGS:
10/16/2018 09:30 PM
Klaudia Kelly might look like a nice girl, but this sex freak is a bad girl through and through. You know the type; you can't take her home to meet your parents but you can take her to the motel to meet your meat. And when Klaudia meets our stud Johnny's meat she is more than happy to suck it and fuck it in true bad girl style.

Klaudia unleashes her freak skills on his pole, giving him a sloppy and loud blowjob before taking his dick for a test drive. And how does a bad girl finish off a porn stud? By letting him shoot a stream of baby batter into her asshole, that's how.

This big-assed white chick is a cutie pie who loves anal cream pies, and we salute that.
LAST HD POSTINGS:
10/16/2018 09:30 PM
Gya is very chatty. Her voice is very sensual and her whispery, breathy, erotic speech patterns make her even more of a living, busty doll than she is.

Gya's red top is so tight, her 44-inch mounds spill over her polka dot bra. She likes that. This is all part of her master plan to drive tit-men totally crazy.

"I like bras that push up my boobs and make them look round. I like demi-cups and push-up bras. I like them to make my breasts look very big, so they have to be a little bit smaller and tighter than my size. I like a lot of cleavage and smaller bras do that for me."

There are many unforgettable moments in Wonders Of Gya: Gya squeezing her tits together and licking both nipples at the same time like she's licking a double ice cream cone; the low-angle view of her pussy and hanging boobs.

Gya even walks over to the bathroom self-sucking her nipples! Once in the tub, she does many miraculous things before she begins to shave.
LAST HD POSTINGS:
10/16/2018 09:30 PM
All good girls get their stockings stuffed with goodies, and no one knows that better than Leena Lane. She shows you her beautiful legs and spanks herself for good measure. She prances and preens in her sheer and shiny pantyhose in front of the fireplace, and then unwraps herself, so you can watch her suck her toes. It's a very merry time with leggy Leena and she wants to make sure that when you watch her, it's not a lump of coal in your pocket that's causing the bulge in your pants.
LAST HD POSTINGS:
10/15/2018 09:30 PM
Calling Nurse Terri Jane To Emergency Ward K
Calling Nurse Terri Jane To Emergency Ward K.

The Terri Jane treatment may not work as a nursing recruitment tool but it definitely will inspire a wave of potential patients to check into Terri's emergency ward and drop their drawers.

The sight of Nurse Terri bouncing up and down on the bed is spectacular enough to put any man in traction for a few weeks, and Terri knows it but she can't help herself. Unfortunately, real-life nurses can't dress like head nurse Terri. It's a sad fact of life.

The first thing Terri decides to do is give herself a complete examination. In this ward, the nurses wear bras but not panties. This helps to keep them from getting overheated during their rounds. The patients are the ones who get overheated. It's a small price to pay for the best in health care.
LAST HD POSTINGS:
10/15/2018 09:30 PM
Lana Ivans surrenders to Kamil as he inspects her beautiful body and begins sucking her nipples. She gets on her knees to engulf his cock, jacking the shaft with her right hand and sucking the head while she pinches her left nipple with the left hand. He places his hand on her head and lowers it to get his rock-solid boner deep into her mouth.

Lana sucks beautifully, only slightly gagging as the long sausage fills her mouth and throat. This busty little girl can take a really big dick in her sweet pussy as well as she can take it in her mouth. Kamil eats her pussy, savoring the sweet taste. They fuck with Lana sitting on him like a lap dancer, the pole going deep inside her.
LAST HD POSTINGS:
10/14/2018 09:30 PM
Marissa Kert lives in Switzerland and was referred to our team in Prague. She needs a 38J-cup bra, always wears one and generally has an easy time buying them in London.

Marissa likes cross-country skiing. Other than that, she is not a sports fan at all. She travels a great deal and loves to go to the opera and visit art galleries. And she enjoys reading. She's also interested in gardening but hasn't found the time for it.

Marissa doesn't dress to show off her huge tits. She gets looked at wherever she goes anyway. She describes herself as a "fetish lady" with too many to list.
LAST HD POSTINGS:
10/13/2018 09:30 PM
Occupation: Student; Lives: Tacoma, Washington; Age: 23; Born: October 23; Ht: 5'8"; Wt: 130 pounds; Bras: 34B; Panties: Usually cheekies or thongs; Anal: Yes; BJs: Usually spit; Masturbate: Everybody does.

"Sex is a great workout, so I'm going into this expecting to be exhausted," Xeena told us when we asked her what she wanted out of her first porn experience. "I'm also looking to break out of my shell. I was very shy back in high school and had a small circle of friends. I guess you could call me a nerd. I'm trying to be more confident. I think shooting porn will help!

"I've always wanted to take someone's virginity. I want it to be a guy, but I'm not picky about too much else. I'd love to fuck a teenager and show him pointers, but I'd also give an older guy a pity lay to help him out.

"Your stud had the second biggest cock I've ever seen. The biggest guy I had was a random hookup walking home from a concert. He was smoking some weed and offered me a hit. We ended up banging in a park on a picnic bench. His dick took my breath away. It was like a fucking flashlight!"
LAST HD POSTINGS:
10/12/2018 09:30 PM
Sylvia Bateman: First Fuck For The Teen Tit Dream
Brick is rightfully going insane over Sylvia Bateman's fresh, 18-year-old body and her big, creamy 38G-cup tits. Sylvia stands at his request so he can study her fertility goddess shape and drink in every inch of her creaminess.

Sylvia's boobs come out of her bra so Brick can suck on her tasty nipples. She takes a lick of one nipple herself. Pulling her blue panties to the side, he checks out her bush. Most young models are shaved slick today but Sylvia has a nice pussy garden. Brick tells Sylvia to rub her fuzzy slit and thick lips, put her finger inside her pussy and put the finger in her mouth so she can taste her juices.

After playing with the succulent teen's body, Brick stands and de-pants. Sylvia's eyes light up at the sight of his boner. She's made him as hard as a rhino horn. He feeds Sylvia cock first, then fucks her tits. She lies back on the couch and Brick rips her tank top in half right off her. She pushes her tits together and he pumps them a bit, then undresses Sylvia completely. Taking total control, he tells her to sit on his cock in a cowgirl position, the first of several positions he'll be fucking this teen tit cream dream in.
LAST HD POSTINGS:
10/12/2018 09:30 PM
Diana Frost (Volume 28, Number 1 SCORE magazine, Volume 26, Number 1 Voluptuous magazine), who hails from Riga, was 16 years old when her big boobs began to sprout. One of our model recruiters spotted her. Diana was interested from the start. She had never modeled before so the experience was brand-new for her.

Diana had seen SCORE before but had never considered contacting us. The recruiter gave her a quick course in SCORE history, and within a few weeks, Diana was on her way.

"I like to watch gymnastics," said Diana, who's taught literature and worked as a manager. "I go to a fitness center several times a week. When I dress, I don't try to emphasize my breasts but that is not easy for me. I am proud of them yet I don't do anything to draw attention to them. Of course, now that I am a model, maybe my feelings will change in time. I am actually quite a shy person so this is a big change for me."
LAST HD POSTINGS:
10/12/2018 09:30 PM
"I'm ready to get a little dirty and nasty today," Megan Reece says as her latest scene opens. "I'm always down to get dirty, though."

That's music to our ears and excitement to our cocks. Megan is petite and has the type of fit and tight body we love to play with. We call girls like her "spinners" because they're made for spinning like a top on your rock-hard cock.

"Yeah, I like when things get a little rough," Megan added. "I like spanking and all that stuff. The best thing about being fucked by a big, strong guy is being thrown around like a rag doll."
LAST HD POSTINGS:
10/11/2018 09:30 PM
The Amazing Julia Jones & Her 38GGG-Cup Wonders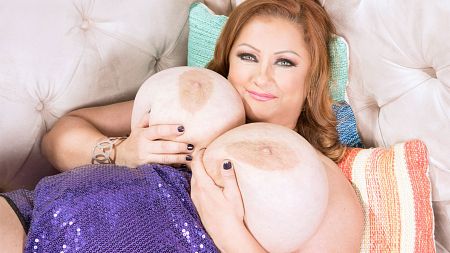 Can you guess what nation Julia Jones calls home? It's one of the first things Julia tells you in the beginning of this scene.

Julia says that the women in her country have big boobs because of the natural foods they eat. We've heard this before from other eastern Europeans. We've also heard beer mentioned by girls from the Czech Republic, Germany and Poland.

Julia has never met another woman with boobs as big as she has. She doesn't know of any big-boobed models. She was told about XL Girls by a friend so she emailed for information about posing. We guarantee you that your jaw will drop when she takes out her huge hooters to shake and swing them.

When Julia leaves her house, she doesn't dress to show off her big tits and body. She doesn't like being gawked at, but guys are going to stare because that's what guys do, especially if they're tit-men and the lady they're looking at wears a 38GGG-cup bra. That's triple-G. She usually buys them at Marks & Spencer.

Prepare to fall in love. Or at least consider moving to Romania.
LAST HD POSTINGS:
10/11/2018 09:30 PM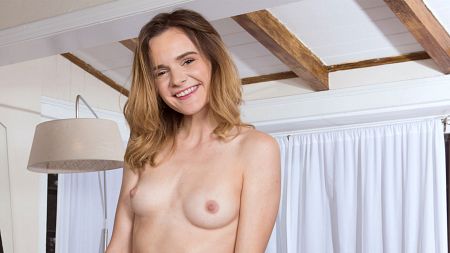 Occupation: Cashier; Lives: Lansing, Michigan; Age: 21; Born: August 23; Ht: 5'6"; Wt: 120 pounds; Bras: 32B; Panties: Bikinis or thongs; Anal: Not that into it; BJs: Cum on my face; Masturbate: Of course.

We asked Addee what she was like growing up. "I was a good kid. I did my homework, helped my parents and had a strong group of friends that I really liked. I definitely would have never predicted that I would end up doing porn!" But here she is, masturbating on-camera for the first time. "I'm nervous, but I love masturbating, so this should be, like, second nature for me.

"When I masturbate at home, I rub my clit with my vibrator. Sometimes when I'm really horny, I'll finger myself for a long time and bring myself to orgasm nice and slow. It's more work to do it that way, but the payoff is awesome."
LAST HD POSTINGS:
10/11/2018 09:30 PM
Micky Lynn, 45, has been sitting in her classroom waiting for her student to show up. But he's late, and when he finally does arrive, Micky is not happy with him.

"I'm going to have to teach you a very valuable lesson in how to be on-time and how to do things right," Micky says. "You have to be on time because I have needs."

Turns out he's been having trouble with his girlfriend.

"She doesn't want to have sex," he says.

Micky does. As she said, she has needs.

"So maybe I'm going to have to teach you a few things that your girlfriend can't teach you," she says, then she pulls out his cock and starts sucking it POV-style. A lot of this scene is shot POV, and in the rest, we don't see the guy's face, so it could be you pounding Micky from behind and shooting your load on her tits and pretty face.

Micky, who's a mom, is a former big-time porn star who's back in the game after nearly 20 years away.

"It feels different but the same also," Micky said when we asked her how it feels to be back on-camera. "It feels so good. I'm a little older and a little wiser now, but I've still got it. I'm excited to meet all my new fans that are out there and get to know them, get to comfort them, get to suck on cock and play with myself and all that good stuff."

All that good stuff, eh?

"I like to watch all kinds of porn," Micky said. "I like to watch women going down on women. I like to watch men and women and also men and men. I love it all. Sex is sensual and it makes me feel so good."
LAST HD POSTINGS:
10/11/2018 09:30 PM
The Naked Truth About Rachael C.
"I didn't start to develop until I was 14 or 15, so you could say I was a late developer," said Brit blonde Rachael C., a girl who had wanted to be in SCORE for several years and finally accomplished her goal. She lives in Newcastle and spends a lot of time in London.

"I try to get to the gym as much as I can, but that can be hard with my busy schedule, modeling and all that. I'm a big animal lover. I have a little dog of my own, called Thor. He's a little Pomeranian puppy. Very small.

"I'm the kind of girl who likes casual dates. Take me to the pub or play mini-golf and I am happy. I don't like formal dates. I like to do things that involve some kind of activity. I love music. I'm a rock chick at heart. I love to go to concerts.

"I fall asleep at films. Take me to a film and I'm going to fall asleep. On TV, I watch stuff like Bones. Forensic stuff. I'm not really into the fantasy shows."
LAST HD POSTINGS:
10/11/2018 09:30 PM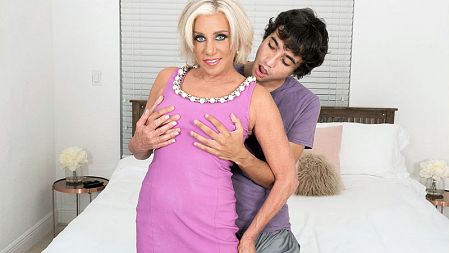 First, 56-year-old Payton Hall tells us what she's been doing since the last time she fucked for us back in 2013.

Then, she sucks and fucks a young, hung stud. This dude really drills her pussy, and Payton's nice tits quiver as she bounces on top of him. You're going to love Payton's sexy tan lines. Ricky obviously did, so much so that he cums in her mouth and all over her face.

"Nice facial," Payton says when her face is covered with cum. "That's what keeps me young-looking."

Okay. If she says so. Let her believe it!

When Payton first shot for us, she said, "I'm pretty much living out all of my sexual fantasies. Having sex on-camera was definitely one of them. But as for things I haven't done, I'd love to go to Hedonism in Jamaica and travel more. I'd love to totally trust and give my whole self to one person and experience totally unbridled passion. Fucking is great, but sex where you really care about the person is the best."

We can tell you that Payton cared about Ricky. She liked him. But most of all, she liked his cock.
LAST HD POSTINGS:
10/10/2018 09:30 PM
Lily isn't that experienced with sex, but she has had a load or two blown in her mouth. Now she wants to know what it's like to have a guy cum inside her. Sure, it feels good for the guy, but how will it feel for her? Lily's dad's friend is happy to show her.

To make sure that he produces the biggest load possible, Lily drools all over his cock and gags on it. Now he's rock hard for her pussy and bends her over for ass-slapping doggie-style.

Lily has a nice, tight body and perky tits. She obviously likes getting fucked. Any guy would enjoy being inside her. This guy does. After slamming her tight pussy every which way, he unloads his jizz inside her. Turns out creampies feel just as good for Lily as they do for the guy.
LAST HD POSTINGS:
10/10/2018 09:30 PM
Harley Ann can't get enough of JMac. JMac can't get enough of Harley Ann. It's encore time for them. This cutie pie, standing only 5 feet in her bare tootsies, sports big and juicy 40DD-cups ripe for sucking and fucking.

Harley Ann's fat jugs are his for the squeezing. Those tits need a lot of care and handling. She gets only the best here at XL Girls. Harley goes down on his dick for a wet, sweaty, messy and beautiful blow job. His cock is too big for her mouth so she gags and drools trying to deep throat him, the saliva dripping on her tits. JMac helps out by pushing Harley Ann's head further down his shaft. She taps his cock against her outstretched tongue, staring at the camera to show one of the moves she's learned since getting into adult videos. Or was she doing this naughty thing before she became a hot model? Go Harley!

The redhead from Florida deserves a good tit-fucking too. She's covered. It's a high-energy whopper-wanging. Harley sticks out that long tongue of hers so his shaft can rub against it as it moves out of her tight cleavage and towards her pretty face. JMac urges her on with motivational instructions. Go Harley!

He then strips Harley Ann down to her birthday suit and loudly spanks her fleshy ass. It's time to fill her up. He puts Harley Ann on top of him and they start their fuck ride. She pumps his cock hard and fast. He spanks her butt and that makes her even hotter. Every few seconds, a moaning Harley says "fuck!" She turns around, still on top, and keeps bouncing up and down on his pole, her big tits shaking and wobbling. It's a wild ride. Go Harley!

Harley said the most-fun thing she's done was being a stripper, but maybe this is even more fun for this girl-next-door.
LAST HD POSTINGS:
10/09/2018 09:30 PM
A Big, Black Cock For Lisa Canon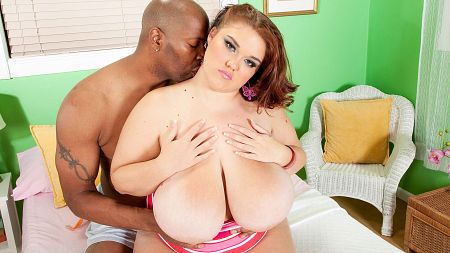 Lisa Canon knows she has a lot to give men who love huge cannons. She was a video virgin when she first applied for modeling at XL Girls.

"I'm crazy. I'm bubbly. I like to have fun. I'm the first one to do anything crazy, whatever it is. My favorite position is doggie-style. I love it. I love having rough sex. But like any girl, I like the sensual, soft, kiss-me, love-me type of sex. But then there's times when you're just like, 'Fuck me!' I try to get the cum to land from my mouth down, but if it gets on my face that's okay. I can't control where it's going to go."

Pretty and sexy Lisa, very much the Southern GND or Girl-Next-Door, expressed a desire to taste the meat of the black tubesteak. Enter into the picture, and into Lisa, Mr. Stone.

Lisa and Stone are sitting on the bed. Lisa is dressed in a striped tank top and panties. She turns and asks him for a boob massage, one of her pleasures. He is only too happy to oblige. He's been waiting for the chance to bone this delectable morsel and savor her creamy 34G dumplings with its dark, pancake-sized areolae and pert nipples.

He spends quality time enjoying Lisa's nipples and sucking her shaved pussy. They switch positions so Lisa can plop her jugs on his groin and suck and stroke him, doing it with the devotion of a cock worshipping fuck doll while Stone urges her to spit and mouth-polish his cock to "show me how much you want black dick."
LAST HD POSTINGS:
10/09/2018 09:30 PM
"I like to dance, but I have to be careful about what kind of dancing I do because my big breasts bounce all over the place!" living legend Joana Bliss said.

"I like all types of music. Old, new, disco, dance music. I like meditative music for exercise and relaxation."

Posing has brought Joana a kind of fame that makes her feel good. She tends to stay under the radar and doesn't have pages on social media sites. She prefers the quiet life.

"Being a model has given me much happiness and made my life more interesting and creative. I think the human body is one of the most-beautiful creations on our planet. There is nothing shameful about the male and female body. I love to look at the works of the great painters and sculptors that understood this."