LAST HD POSTINGS:
02/17/2019 09:30 PM
"Some men like me for my breasts, some like me for my ass, but I prefer men who like me for me," said Valory Irene who was ready for her wedding in this scene. Fortunately for us, the groom didn't show up.

"I love cooking for a man. I'm kind. I'm a good person, I think. Of course, maybe it is not good to talk about myself like that and say that I am a good person, but I think I treat men good. I give my warmth to them."

It's always warm in the Caribbean. Warmer with Valory around.

"I'd like to have sex under a palm tree, as long as no coconuts fall on my head! But I am a romantic. I like when a man surprises me and takes his time to do special things for me."
LAST HD POSTINGS:
02/16/2019 09:30 PM
Occupation: Dental Hygienist; Age: 28; Born: March 24; Ht: 5'6"; Wt: 110 pounds; Bras: 36D; Panties: Anything colorful; Anal: I haven't tried it; BJs: Swallow if you're special; Masturbate: Yes!

If there's one thing to be said about Annika, it's that she's enthusiastic about everything. "Life is too short to be depressed about anything. I love life, and sex is a big part of life. I'm going to embrace and revel in sexuality."

Annika and her boyfriend have been toying around with starting their own amateur porn company. We love a little friendly competition, so we offered to help them learn the ropes. The first lesson is leaving your baggage by the door. Annika had to fuck another guy while her boyfriend watched. If he was cool with it, then the rest of their lives should be a breeze. How did he do? We'll find out later when we bring Annika in for a post-fuck interview.
LAST HD POSTINGS:
02/16/2019 09:30 PM
Korina Kova's Stairway To Heaven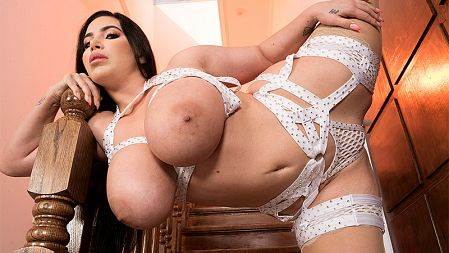 There are no limits to the heights Korina Kova can reach. Her smooth, sexy moves, extreme flexibility and dancing skills are on display in this hot video that includes slow motion. There's breast play, ass-clapping, twerking, pussy play, nipple sucking and more, and at one point in the video, Korina, wearing a strappy outfit and stockings, stands on her head and spreads her legs wide. It's quite a show.

"I love to take care of my chest," said Korina. She keeps herself in perfect shape. "I love to keep my skin in good condition, and I always wear a bra...if I'm sleeping, anything. Gotta hold them in!"

Korina talked about men and dating.

"My weird quirk for men is facial hair. I love facial hair. I like chill, casual dates. I like to keep it very comfortable. Good conversation. I like to have a steady partner. I don't sleep around."
LAST HD POSTINGS:
02/15/2019 09:30 PM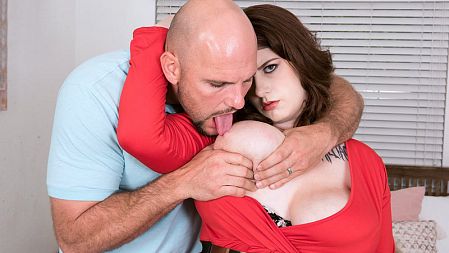 On the staircase on her way to hook up with super-stud JMac, Veronica Bow thinks about how she likes to be watched. She jiggles her big, pliable boobs (seen in slow motion) while he watches her and waits.

Coming from behind, JMac takes Veronica's tits in his hands and plays with them, sucking and squeezing them, sinking his fingers in her soft breast-flesh. He slaps her ass and has her kneel to suck his dick hard and fast. JMac positions her body in the perfect angle. She grips the shaft and opens her mouth. He holds her head while she's giving him head. Veronica's tits hang and swing.

His hand on Veronica's head, he feeds her cock, putting it into her mouth and taking it out. Strings of saliva pour out of her mouth when he withdraws his dick. Back into her throat it goes and out again.

He holds the shaft up so Veronica can suck and lick his balls. She holds his nuts in her mouth and gently pulls. JMac approves. Veronica cups her wet, shining boobs in her hands and squeezes them together for JMac to fuck. He fucks her tits faster and faster and tells her to push her tits together and massage his dick like that.

"Ready?" he asks.

She's ready to be opened and fucked. They get on the bed and Veronica climbs on top of him in a reverse cowgirl position. Her tits splay and bounce in that position as her pussy is stretched and filled.

Veronica's ready for new positions. Her favorite is doggie. She gets that and much more with deep penetration, something Veronica said that she loves. She glances at the camera at times. That adds an extra touch of heat.
LAST HD POSTINGS:
02/15/2019 09:30 PM
Shelby Gibson Goes All The Way...Again!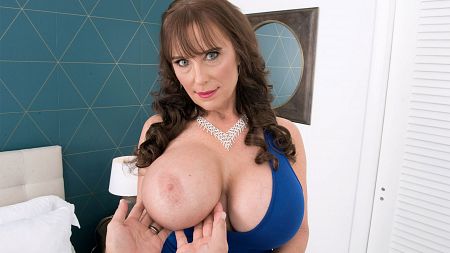 Super-busty SCORE WILF Shelby Gibson is back for round two with the stud who makes the adult world spin for her: JMac. Three years after 5'1" Shelby sucked and tit-fucked her 6'3" porn idol, she returned. The reaction to that news was swift. Those who had given up on the possibility were jazzed.

This is round two, filmed P.O.V.-style.

"I really wanted to come back and was very excited about that," said Shelby, who was "traveling, having a great time, enjoying life" during the past three years.

"I was still very nervous because it's something I hadn't done before. Excited, and I really wanted to make my fans happy and have a good time. I felt like I was ready to go to the next step."

SCORELAND: When you shot for us the first time, you had no idea how guys would react to you. Are you surprised by the reaction guys have had?

SHELBY: Absolutely. I've gotten some of the nicest comments, some of them a little dirty, from your readers. It's been great. I just can't believe it. It's like, "Wow, they really think I'm beautiful." They watch my videos a million times. They wish me happy holidays. It's been a great experience. JMac and I had a great rapport when we did my first scene, and he's just a great guy, and I know we look really good together. I got to suck his enormous cock. Again. And we got into some really interesting positions and fucked in some really hot positions. And he picked me up and put me down and fucked me in the piledriver position. I've never done that before. He's very strong, so I felt very confident that I was in good hands.
LAST HD POSTINGS:
02/15/2019 09:30 PM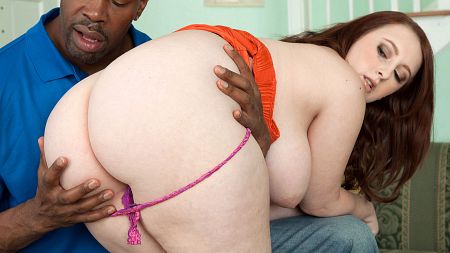 Felicia Clover is one of those rare finds. She is somewhat like a unicorn, actually. You see, just like that mystical creature, Felicia's assets are practically magical. This white girl is not only packing a whole lot of titty, but she is also packing a lot of ass, too. Ass AND titties on a WHITE GIRL!? Yeah, we were blown away, too. But wait, she gets even more magical because she is actually fucking for the first time ever on-camera in this video, too! It's almost too much magic to take in. She gives up her XXX cherry to Lucas, a hung stud who knows how to spank and worship that ass like it needs to be handled. Does she get the dicking of her life in this video? You know it. She gets turned on and then gets her ass coated and glazed in ballsauce. Welcome to the XXX club, Felicia!
LAST HD POSTINGS:
02/14/2019 09:30 PM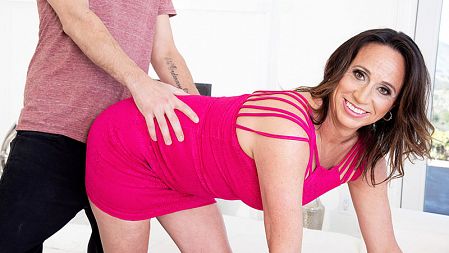 You are about to get to know a woman who owns her own fuck machine and likes to use it to DP herself with toys. She's friends with 60Plus MILF Lisa Marie Heart and 40Something Gina West, who have both fucked on-camera. But this is her first time fucking on-camera.

"I'm a little nervous," said Raelynn Raines, a 47-year-old mom and granny from Phoenix, Arizona.

But she also said, "I like big cocks." And she added, "I love anal. It's taboo, and the feeling is a lot different. It's great."

In this, her first video, Raelynn calms her nerves very quickly. After we get to know her, her guy shows up.

"Can I just start playing with him?" she asks.

"I think she likes my cock," he says.

"I do," she says, and then she goes down and sucks it. She sucks it lovingly and deep and gets it very wet. But as wet as it is from her saliva, it's still very big and it stretches out her pussy lips. You can see her lips wrapped tightly around Logan's cock while she's riding it.

So the nerves are gone. The big cock, which Raelynn loves, is in.

And then she gets what she wants most: a big cock in her tight ass. We're here to tell you that when that cock enters Raelynn's ass pipe, she just loses it. She goes into sexual overdrive. She can't stop cumming. She can't stop talking dirty.

"Oh, fuck, cum in my ass!" she tells Logan. "Fuckin' fill my fuckin' tight little ass up with cum. Fuckin' give it to me," and he does, squirting his load into her asshole.

As hardcore cherry breakers go, they don't come any hotter than this.
LAST HD POSTINGS:
02/14/2019 09:30 PM
Blake Emerald's Valentine Virgin Confidential
Blake Emerald is a Las Vegas local. Her first job was working at Starbucks. That's no place for a pretty girl with very big 36H-cup tits. She's here at XL Girls because of SCORELAND model Codi Vore. They went to school together. Codi was influential in Blake deciding to become a webcam girl also.

Blake said she's a virgin. She's given hand jobs and blow jobs but no one has fucked her pussy, her butthole (some girls do anal sex to preserve their virginity until marriage) or her boobs. Some of her cam followers have offered her cash to bust her cherry. Blake is bisexual but she has only made out with another girl.

In the kitchen, Blake and our photographer Jose talk about her masturbation practices. Blake masturbates a few times a day and said she never shows her pussy on-cam. Her cam is mostly aimed at face and her breasts. Showing her pussy at XL Girls is a first for her. Jose asks her to masturbate. Eyes closed, she leans back in the chair and rubs her pussy without penetration. (She uses a vibrator at home but never inserts it.) The camera moves in close to show Blake's digital manipulations.

Blake is a girl-next-door with all kinds of fantasies about losing her virginity. You'll have to ask her what they are.
LAST HD POSTINGS:
02/14/2019 09:30 PM
Occupation: Bartender; Age: 21; Born: October 27; Ht: 5'1"; Wt: 95 pounds; Bras: 32A; Panties: Boyshorts & cheekies; Anal: Still pretty inexperienced, but I like it; BJs: Swallow; Masturbate: Daily.

Lolli describes herself as "completely submissive." We asked her what that means. "I'm not a dead fish in the bedroom, but I like men to take control. When I masturbate, I like to fantasize about a hot guy just starting to kiss me, having his way with me, and pushing me up against a wall. I like when guys get caught up in the moment and pull my hair or choke me a little bit."
LAST HD POSTINGS:
02/13/2019 09:30 PM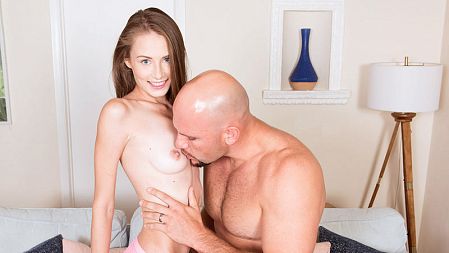 This scene starts off with JMac horny for some action. Kyler tells him her pussy is still sore from the last time they fucked. JMac says he can make it feel better with some of his special cream.

"What's a creampie?" she asks.

JMac is happy to show her. But before filling her with cum, he fills her with his big, hard cock. Kyler gets tossed around in some fun positions where we get clear views of his cock thrusting in and out of her pussy like a piston. Kyler is so tiny that JMac's cock looks like it's half her size, but she manages to take his full length with no problems. She also gladly takes his full load, squeezing it out of her just-fucked pussy, scooping it up and licking it off her fingers.

After the scene she confirmed that she's now a fan of creampies. "Mmm, they're delicious. I loved tasting his cum mixed with my pussy juice."
LAST HD POSTINGS:
02/12/2019 09:30 PM
"I don't hire just any man for the job. He has to be tough and strong, but also have the intuition to know when to be suave and gentle. The best way to test them is to see how they suck my toes and fuck my pussy. It also lets me know how well they take direction. This guy was definitely a shoe-in, pun intended. He tongue-bathed my stinky tootsies without hesitation, then gave my pussy the drilling it was craving."
LAST HD POSTINGS:
02/12/2019 09:30 PM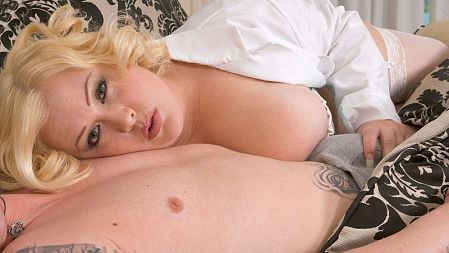 Admit it. Bunny De La Cruz is the hot nurse of a patient's most sexually-charged dreams. Nurse Bunny is a pro at handling prostate problems. She can clean out your tubes in record time with her tongue and lips.

Every hospital patient in the world fantasizes about getting a nurse who looks like Bunny strutting into his room. He dreams of getting his cock sucked, his dick engulfed by her pussy and huge tits.

When the visiting nurse service from Hooter Hospital arrives, a man will feel the tender touch of a juggalicious hottie. This busty angel of mercy will apply the laying on of hands on your organ, kiss it, get it cement-hard and make it all better. Thank heavens for angels of mercy such as Bunny.
LAST HD POSTINGS:
02/12/2019 09:30 PM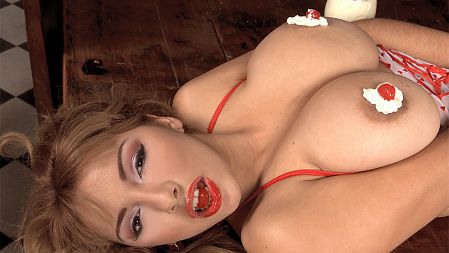 "Would you like to have some ice-cream with me?" Paola Rios asks in Spanish. Don't worry if you can't understand the language. English subtitles have been provided. And besides, Paola speaks our universal language, Boobish. "You can watch it drip from here, from there, with cherries..." Paola says, pointing to her nipples with her fingers. We are in the fantabulous city of Buenos Aries, Argentina and Paraguayan hottie Paola has joined us for a six part Bad Girl In BA tour of this erotic metropolis. In part one, Paola dolls herself up, changing into sexy lingerie and prepares to turn herself into a busty sundae. Lick up her creamy goodness.
LAST HD POSTINGS:
02/11/2019 09:30 PM
Calfornia girl-next-door Angel DeLuca, an exotic blend of Irish, Italian, Japanese and German, has silver dollar-sized areolae that drive guys nuts.

Angel's thrill when she masturbates is heightened knowing that she is being watched. That's a born exhibitionist. "I like to vacuum in a tight, low-cut dress with six inch stilettos," Angel teased.

"Cock size is not too important. I'm really more concerned if the guy can use it correctly. In other words, make me cum before he does so he can feel my pussy tighten on his cock. That gets me off more."

Webcam model Angel could collect a following as a stripper in the real world. "I went to a local club once and was immediately asked if I was a dancer. I guess my huge tits were a change from the usual girls. I politely declined and sat down to watch the dancers and get myself a lap dance."
LAST HD POSTINGS:
02/11/2019 09:30 PM
Gabriella Michaels is out for a run. Her heavy hooters have a bouncing life of their own despite Gabriella's sports bra under a tight top. The heat and humidity get to her, so she accepts a ride from V-Man Ashley instead of walking home. He asks her to bounce for him for a ride and she does. The boob-hound takes that as a promising sign.

Gabriella invites Ashley inside where they get cozy. He asks if he can play with her jugs. She's happy to accommodate him and he encourages her to lick her nipples. He begins licking and sucking her tits, which gets her pussy good and wet for his upcoming love-tool.

Once her bra has been dropped below her breasts, he has Gabriella twirl and bounce them. She's found someone who drools over her big 'uns. She's happy to suck, and before you can say "bounce baby, bounce," she's got a naked dude on her couch feeding her a hard-on. Gabriella gives him a tremendous, sloppy, gooey blow job, tits twirling while she bounces on the couch, then she drops to her knees to tit-fuck his cock, rubbing and heating it with her soft, wet breast-flesh. Her snatch needs friction, too, and by now it's time to fuck, and fuck like they mean it. Ashley rams Gabriella on the couch with solid strokes.

This chick is overjoyed to jump on the pole and her enthusiasm for sex comes through on video. She likes a rigorous pounding. When she hits the floor to get drilled from behind, the camera captures her tits dangling and hanging. By the time they're done screwing, Gabriella gets into position, offering her tits to be cream-coated. She oohs and aahs as the nut-milk blesses her boobs. Gabriella's bouncing tits have once again proven that they are a girl's best friends.

Immediately following this episode of Bounce Baby, Bounce! is a video of Gabriella on the set of a Voluptuous> magazine photo shoot. We salute Gabriella Michaels with pants half-off. She has done well.
LAST HD POSTINGS:
02/09/2019 09:30 PM
"Nudist and Internet Voyeur" Selena Adams is one of Miami's top models. She was on our radar after we saw her on Instagram and Twitter, but it was Selena's bosom buddy Korina Kova who recommended she contact SCORELAND. Thank you, Korina. The two of them attracted big crowds with their appearance at the 2019 AVN Expo in Las Vegas.

This scene begins with Selena telling us a few things about herself. She's wearing a short pink dress with a criss-cross top that barely covers her areolae and doesn't cover her sexy Miami Girl tan-lines.

"My favorite thing in the whole world is a nice cum load, in my mouth, on my tits, in my pussy-hole. I love cum loads. I have a cum fetish. My favorite sex position is doggie. I just love getting my hair pulled, arching my back, getting my head down. I love it. Thinking about it, I'm getting hot right now.

"My other favorite position would be reverse-cowgirl, specifically on a sofa I have in my room that has this very nice angle to it, where my guy can sit comfortably and I can just go to town on him."

Selena mentioned a few of her special talents.

"I can play the clarinet and I can titty-twerk."

Selena stands and pulls down her top and then the rest of her dress and gets busy showing off her traffic-stopping body. Stacked is not the word.
LAST HD POSTINGS:
02/08/2019 09:30 PM
Our team traveled to Colombia to meet webcam model Isa Gomez, sexy, hot and bra-busting. She has a seductive look in her eyes. Isa began developing at 14 and had the largest, most bountiful boobs of all the girls in her neighborhood. Finding bras in the right size as she grew up and her breasts got bigger and bigger has always been difficult for her.

"I buy regular bras off the rack," said Isa who can lick and suck her own nipples. "I don't require special ones but they are hard to find in my size. I need to have a lot of support because they are so heavy, as you can see."

No one who sees Isa out and about would guess that she's on webcam chatting with guys, bouncing her big tetas and finger-banging her pussy. But when they see her wearing a tight T-shirt during a shopping trip, they know she's special.

"I really dress conservatively, not to show off my boobs," Isa said. Her videos have English captions. "I can say that this is the best experience I've had in my whole life. Everything is so delicious. I love being here."

LAST HD POSTINGS:
02/08/2019 09:30 PM
Cheryl Blossom: The Rating Game
Cheryl Blossom did something in this scene never done before. Cheryl actually graded her body. As a visual aid, Cheryl had five stickers numbered from one to five and she placed them on the different areas.

Number five was placed on her legs. Number four was stuck on her belly right under her navel. Giggling, Cheryl slapped sticker number three on her ass.

Lifting up her bra over her areolae, Cheryl placed the number two sticker on her left nipple and number one on her right nipple. We have a split decision here.

So there you have it, for the first time. Cheryl Blossom is the first girl to rate her body parts from five-to-one.

"I think my breasts are not growing now, but a year ago, they were about a cup smaller than today," Cheryl said. "Now I'm a little bigger overall than I was a year ago. A year ago they were about an H-cup."

Cheryl Blossom. She's unbelievable.
LAST HD POSTINGS:
02/08/2019 09:30 PM
With an ass and body like Stacy's, it's no surprise she decided to try her hand at fucking on-camera. And when you see this Grade-A certified freak fuck, you're surprised it took her so long to pop that cherry.

"I was at a crazy party a little while ago," Stacy said. "I fucked a guy on the couch in front of everyone. That was when I knew I wanted to do porn. It became my dream. Knowing everyone was watching me made me even hornier. I came so fucking hard."

Well, we're glad we could help Stacy fulfill her dream by serving her up to our boy JMac. You could call this dude a dream-catcher because he's popped a ton of booties and porn cherries in his day. He's more than equipped to handle Stacy's 43-inch apple bottom.

"I can be assertive at times, but I like a man who can dominate me," Stacy said. "Make me scream and beg for more of that dick."

JMac does that and more as he smashes Stacy from every angle before dropping a creamy facial on her. Consider this a wet dream fulfilled.
LAST HD POSTINGS:
02/07/2019 09:30 PM
Doe-eyed Luna Bunny has really got this bad girl coed thing down. That's because Luna is a bad girl coed. In her tiny plaid skirt and tied-top, the sexy brunette's dressed in this video to make the male faculty members lose their faculties.

Taking off her top and bra by the lockers, Luna sucks her nipples and squeezes her tits, slapping her firm ass loudly to make a point. She reaches under her little white panties to finger her pussy. It's in the way so Luna peels it off. She slaps her pussy hard as she sucks on her nipples.

Taking everything off, Luna sticks a dildo on one of the desks and wraps her big tits around it. She moves up and down on it, sucks it like it's a cock, gagging and drooling on it. Sticking her pleasure pole on the floor, Luna lowers herself on it and bounces up and down on it as hard as she can. Her hooters swing and shake wildly as she grinds and rides on her pussy pleaser.