LAST HD POSTINGS:
12/18/2018 09:30 PM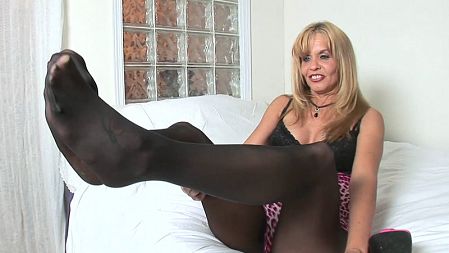 MILF Lola struts her stuff in black pantyhose and hot-pink strappy heels because she likes to put on quite a show...for your cock. She parades around in her sexy outfit for your voyeuristic pleasure and then strips it off to show you her green toenail polish and sleek soles. Watch as she fingers her pussy and slides nylon mesh in and out of the spaces between her toes. And while she strokes her arches and rubs her clit, she has an explosive orgasm, just for you. You can watch and see if you can cum when Lola does.
LAST HD POSTINGS:
12/18/2018 09:30 PM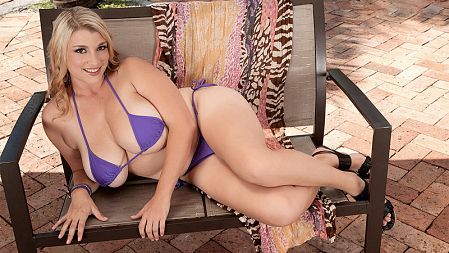 Now tipping the scales at 36H, up from 34G (you've seen Melissa's re-measuring in the Behind The Scenes Voluptuous video "Melissa's Cups Runneth Over"), Melissa Manning brings her wonderful, bikini-clad body to SCORELAND for an end-of-summer blow-out or should we say bust-out.

At poolside, Melissa models her skimpy purple bikini. She steps into the water and wades chest high--high enough to show that natural boobs do float. Undoing the string of her top, Melissa lets her boobs bob in the water. It's a sight to cherish and fixate on. Nature has sure been generous to this lovely peaches-and-cream cutie.

Melissa leaves the pool and gets on a recliner. Armed with a bottle of clear sun gel, she squirts her massive mounds and rubs the stuff in well, massaging and fondling those whopping wahwahs. They shine in the sun as Melissa shakes, swings and squeezes them. The flesh undulates as she grips fistfuls of breast meat. Her hands cannot hold more than a fraction of their volume. This girl is more than a real handful, the very essence of voluptuousity.
LAST HD POSTINGS:
12/18/2018 09:30 PM
Anorei Collins Sprays Her Milk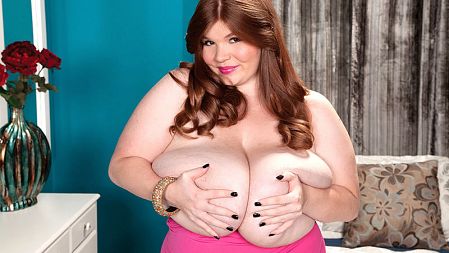 Anorei (pronounced Ah-Nor-Ray), wearing a tight, pink strapless dress, chats about her life growing up with massive titties, why she first got into modeling and how guys react to her when they first see her.

Anorei has massive 38P-cup breasts and squeezes them to squirt out her creamy mammary milk. She aims her nipples at a mirror, the better to see the nourishment spray out. Anorei undresses to total nudity and, lying on the bed, she fingers her luscious, pink pussy until she gets her cookies off.

Anorei's fantasy is "about being taken advantage of by another girl, usually a very tall, smaller-breasted girl, and having her spank me and treat me like her slut."
LAST HD POSTINGS:
12/17/2018 09:30 PM
"I didn't even start modeling until I was in my early 30s," said Samantha38G, who became one of the great porn stars. "I'm not the typical model in the adult industry. Most start when they're skinny and 18 years old. I started at 30 and at my fattest.

"I've done everything I wanted to do in my twenties."

But Sam doesn't watch fuck videos at home.

"I don't want to be influenced by anyone else's performances," Sam explained. "When you go to a strip club, all the girls dance alike because they all watch each other and pick up each other's moves. If I watched porn, I might pick up on other people's moves, and I don't want to do that. You mimic things even if you don't realize it. When you're a little kid, you mimic the adults around you until you learn things for yourself. It would be the same for me watching porn."

LAST HD POSTINGS:
12/16/2018 09:30 PM
A Hot Day For Lexi Slade's Bikini Play
It's a hot day. Just right for bikini play. Very slim and stacked with pendulous breasts, Lexi Slade wears a pink string bikini with a thong bottom. Her ass cheeks are bare. The top doesn't cover her large areolae. This is our kind of bikini and our kind of bikini girl.

Lexi wants to play. She bounces her big tits and twerks her butt. It's slow motion time to make it last. When Lexi takes off her bikini and does a total oil immersion, the slow motion kicks in again.

Shinning from oil, Lexi gets on a lounge chair and furiously rubs her pussy, eyes wide open. She lifts her legs up and sticks her fingers in deep. After Lexi cums, she licks her fingers. Lots of sexy talking and tit swinging and twerking make this show a Lexi feast for the eyes.
LAST HD POSTINGS:
12/15/2018 09:30 PM
Boobalicious & Bootylicious Korina Kova
Korina Kova is one of the most boobalicious and bootylicious girls to ever appear at SCORELAND. This video includes trance-inducing slow motion breast and booty action of beautiful Korina. Just follow the bouncing boobs and buns.

"Masturbation is so much fun for me. How can you not love your life if you're making yourself feel this good? And letting yourself get into all of these different fantasies. So my favorite thing is little vibrating toys on my clit. I love to edge. I wait for the point where I just can't take anymore and then I'll just back off to make the experience last as long as possible.

"I can never buy bras off the rack," said Korina. "When I go into a store to buy one, it's always too small, so I always buy them online. I've been fitted, so I know my size and I can just order them."

Big-boob prejudice is a topic that's been discussed with the girls for years. Everyone has their own story and it usually begins at an early age. Korina has her own experiences that eventually resulted in a happy ending.

"My teacher pulled me aside in grade six, so very young, and told me I had to start wearing a bra. I was the first one to have to wear a bra, and that was devastating for me because I always got teased. (Grade six in Canada is 12 years old.)

"When I was in high school, I was bullied for having big boobs so I learned to kinda hide them when I went out until I entered a wet T-shirt contest and learned that they were so much fun to have. I'm not ashamed of these. The reason I got hate was because of boob jealousy."

Now Korina is busting out with the glow of self-confidence. She's come a long way.
LAST HD POSTINGS:
12/15/2018 09:30 PM
Lives: San Jose, California; Occupation: Student; Age: 18; Born: June 19; Ht: 5'4"; Wt: 120 lbs.; Bras: 34DD; Panties: Thongs or G-strings; Anal: I want to try it; BJs: Have always swallowed; Diddle: Quite often.

"I wanted to get it on with a stud...a guy who really knows how to fuck a girl," said Chrissy."I've screwed a few guys, but not one of them was very skilled or really cared about pleasuring me. I cum easily once I'm hot, so I even get off with the inexperienced guys. With Carlos, I got wet the second I saw his wonderful, hard cock, and I was just about cumming while I was just sucking it! Then, feeling it slide into me and stretch my pussy like it had never been stretched before nearly drove me over the edge. I was almost cumming or actually cumming the whole time we were fucking. I lost track of time and where I was...everything. I was totally cocked!" Check out the photos, too.
LAST HD POSTINGS:
12/14/2018 09:30 PM
Selfie Revenge For Big-boobed Veronica Bow
Veronica Bow is waiting for her boyfriend to show up for their date. She's wearing a body-clinging dress, so low-cut, her 38H-cups are falling out. This is what all girls should wear on date night. Then Veronica gets a text from him and it's not a good one. She's being dumped by text, a shameful, dastardly thing to do to a young lady, especially one with big ol' titties.

Fuming, Veronica looks out her window and sees neighbor Sean lounging in the sun. She taps the window with her fingernails and summons him over. Since he knows she has a man, he doesn't know what she wants him for. His first clue will be when she takes him into her bedroom. Sitting on the bed, she explains the sad situation. Staring at Veronica's tits, Sean tells her he thinks her boyfriend is an idiot.

Veronica could use some consolation sex right now and Sean is happy to be the consolation prize winner. He reaches out and squeezes her soft, ripe, juicy melons, then gets behind her and goes to town on them. Veronica can suck her own boobs easily so Sean lifts them up so she can show him. He takes off her bra and dress and feels her up, squeezing and fondling her body.

Veronica has him get on the bed. He leaps on it and Veronica kneels over him to take his cock out and yank it. Praising his size, she sucks on the head for a few seconds, but before she gets to some serious lip-locking on it, she wants to take a few selfies of the two of them so she can text them to her ex-boyfriend. Revenge is a scorned girl sucking another man's dick and sending him the proof. Veronica gets on her knees and takes and sends him a couple of selfies with Sean's prick in her mouth, the ultimate fuck-you to a bigger prick.

Sean is eager to smash the fuck out of Veronica's pussy. They begin with Veronica riding him on top, her tits covering his face, her hand pulling on one ass cheek. He slaps her big butt hard. This could be the start of a beautiful friendship. Good fucking makes for good neighbors. Veronica gets the stuffing she needed.

After Sean spurts his load all over Veronica's hooters, per her request, she rubs the nut-butter into her skin. As a last fuck-you to her ex-squeeze, Veronica snaps a selfie of her jugs shiny from Sean's semen and presses send.
LAST HD POSTINGS:
12/14/2018 09:30 PM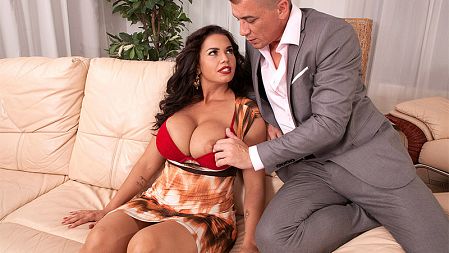 Buxom Chloe Lamoure has furniture to sell. Who would say no? She could sell electric blankets in the middle east. Steve drops by to check out Chloe's stock but her stacked rack diverts his attention. Is this any way to start a fuck scene? You bet it is. Only in the movies. Steve wants to find out if the furniture is cum-stain resistant. He and Chloe will find out because Steve drives a hard bargain with pretty girls.

Steve sits next to Chloe on the couch and lowers her dress so he can pull her big, sexy tits just a little bit out of her bra and pull on her nipples. He takes his cock out of his pants, already bloated from just being next to this smokin' hot doll. Chloe smiles and murmurs her approval, taking dick in hand and leaning forward to engulf it with her pretty mouth and give it loving laps and licks. Chloe gets so engrossed in her oral negotiations with Steve that she doesn't care if any other customers walk in. Now, that's the key to sales success.

Steve goes down on Chloe, now on her back, and licks her pink spot and her large clit. Chloe feels the waves of pleasure flooding her shapely body. Steve spreads her legs wide and tongues her sweet honey-hole while Chloe studies him.

Legs wide open, Chloe gets dicked-down, her tightness spurring Steve on to fuck her in different positions. This couch is really holding up well to their pounding. Then Steve zeroes in on Chloe's lovely ass. She's a girl who enjoys anal sex.

"I love it," Chloe told us. "In the beginning, it was strange for me. Then I started to love all of it. I love long anal play."

When Steve thrusts in and out of Chloe's butt on top of her, she furiously rubs her clit. The sight of Chloe's fuck frenzy throws Steve off the cliff. He shoots his ball-sauce on her tush-hole as Chloe smiles contentedly. Steve has found the girl of his dreams and also seems pleased with the quality of the furniture.
LAST HD POSTINGS:
12/14/2018 09:30 PM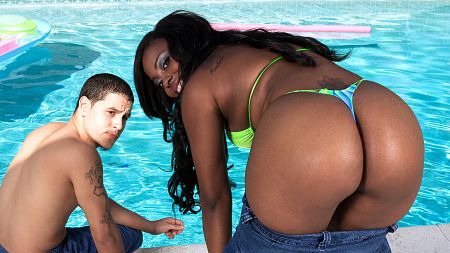 "I like a man who's smooth and assertive," Pleasure Mia said. "I need my dude to come correct."

Well, with a name like Commando, you already know our boy is more than equipped to make sure that Mia cums correct. But, he's smooth, too. As Mia makes her way to lay out on the pool deck, Commando quickly hops out of the pool and makes his way over to her. He kindly offers to massage baby oil into body and booty and, of course, Mia can't turn him down.

Eventually, Mia suggests that they need to finish this inside. And that's where the slip-'n'-slide fun really begins.

"Let's go inside so I can ride this dick," she says lustily.

She hops on top of a couch and pops her chocolate coochie on Commando's magic stick.

"Fuck me," she pants with every thrust. "Fuck me! I'm gonna cum."

That's just the first nut that Mia is gonna bust here, though. Commando turns Mia around and beasts on her pussy doggy style.

"Oh, fuck!" she screams again. "I'm gonna cum!"

Commando can't hold off his jizz either now, and he shoots a heavy load all over her ass.

Neither one of these two had a problem cumming correct.
LAST HD POSTINGS:
12/13/2018 09:30 PM
Julia Jones: Banking On Big Boobs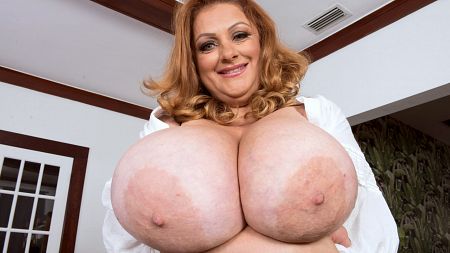 Julia Jones says that Romanian women have large boobs because they eat natural foods. That backs up other comments eastern European ladies have made. Lana Ivans and Arianna Sinn at SCORELAND believed that corn helped give them big tits. Vanessa Y., a Polish bra-buster, said it's the natural beer made without chemical additives. Sophie Mae, a Czech, thinks it's the naturally grown foods and livestock raised without hormones. Lara Jones also said it's the natural foods. They all make a good case for girls to avoid junk fast-food outlets that are polluting the world.

Julia doesn't know any Romanian models and she's never seen any. Now that she's on XL Girls, she'll see Mia Sweetheart, Alice85JJ, Anna Beck, Kitty Cute and other robust Romanians if she looks at the Model Directory. Julia's in great company.

"I don't wear clothing that shows too much of my chest when I go out," said Julia. "Too many guys stare at me. I wear T-shirts and other clothes that keep me covered. If a guy stares at me, I make a face."

So here we have someone who has 38GGG-cup boobs. That's triple-G. Finding bras that fit and look good would seem to be a difficult challenge. It's not. Julia gets her bras from the British company Marks & Spencer, buying them when she travels.

Julia's boobs move in slow motion during parts of this video. They are truly natural wonders and Julia is an all-around superstar.
LAST HD POSTINGS:
12/13/2018 09:30 PM
Amber Chase tells Evan that she's heard things about him.

"I've heard that you've never really been with a MILF. An older woman," she says.

He confesses that he hasn't.

"I'm nearly twice your age," Amber says.

"No way," he says.

She tells him he's 43. He says, "You're making me nervous. I think I should go."

"I think you should stay," she says, then she kisses him, then she feels his package. Then she guides his hand to her body.

"I want to convert you to MILFs," she says.

The conversion begins with a blow job and continues with Evan fucking Amber's pussy. It's easy for a woman to convert a man to MILFs when she looks like Amber with her beautiful face, curvy body and big tits.

Amber lives in Hawaii. She's married and has one child, a grown son. She enjoys nature and masturbating. When we asked her if she tends to be the initiator when it comes to sex, she said, "I can be either the initiator or I can wait for the man to make the first move."

Here, she makes the first move, and everything turns out just fine.
LAST HD POSTINGS:
12/13/2018 09:30 PM
Occupation: Student; Age: 21; Born: May 12; Ht: 5'5"; Wt: 113 pounds; Bras: 34C; Panties: Thongs; Anal: I love anal play; BJs: I think it's required; Masturbate: Every day!

Good news! The last time we spoke to Jade, she was looking at grad schools in LA. She made up her mind to move to California, and we think shooting for us helped her choose. "I realized that I could make some extra money while going to school by shooting pictures occasionally. I'll have to hide it, though. I could lose my scholarship if the school finds out!

"I like hookups as much as the next girl, but nothing compares to making love with someone you really trust and love. I almost never cum during hookups, but I can't help but cum when I have sex with a boyfriend.

"As part of my degree program, I'm going to have to tutor incoming freshmen. I'm not planning on fucking any of the guys I tutor, but I've always had a fantasy of being a sexy teacher who screws all of her students. If the right guy comes along, I might have to indulge myself. I know it's probably a bad idea, but you only live once, right?"
LAST HD POSTINGS:
12/13/2018 09:30 PM
Amora Lee works out a large gym ball that's not standard equipment at any fitness club. What'll they think of next? This ball doubles as a sexercise device with a protruding toy so Amora can bounce, baby, bounce!

"I don't really dress in clothes that show off my breasts when I go out," said Amora, a nurse by profession. "I only have one dress that shows a lot of cleavage. My shirt size right now is a large to an extra-large, but I'm really a small-medium. I'm small-framed and very busty so I go up three shirt sizes."

Amora said she's not an athletic-type. She doesn't jog. "If I was to run down the street and back, my whole chest would be so red because of my breasts hitting them." Because Amora is a fun person, she was game to bounce her beautiful, huge breasts, and bounce she did, sitting on the workout ball in a spectacular display of boobs in motion.
LAST HD POSTINGS:
12/13/2018 09:30 PM
Seka Black is ready to go out. She's horny, and she wants to find a big, black cock to fuck, so she's wearing a super-sexy red dress that shows off her big tits and sexy back. But she doesn't even have to leave her house to get what she wants because when she looks outside, some dude is working on his car. She knocks on the window to get his attention. He looks up. She flashes her tits. He comes closer. She invites him inside. And then she really invites him inside!

Seka, who's 64 years old, married and a mother and a grandmother, really loves black cock.

"On New Year's Eve, me and my husband went to a house party and had an orgy," she said. "Everyone was fucking everybody. I think five guys played with me at once. They took turns." All five guys were black.

Yes, this is Seka's first professional on-camera fuck, but it's not her first time showing off her incredible body for all the world to see. For example, when she was 45 years old, she danced at a strip club in Fort Lauderdale, Florida. One of those upscale joints.

"I thought it would be a great experience to find out what it would be like to be a stripper, and it was fun," she said. "The excitement of teasing, turning on men, including black men."

Most of the girls dancing at the club were in their 20s, but a lot of customers went for Seka and her mature beauty because "they loved the way I had my own technique of stripping. The other girls didn't have as much clothing on. I love garter belts and stockings. The other girls weren't doing that, so it was a turn-on for the younger guys.

"Sex is sex. It doesn't matter what age. There were some women who were there mainly for the money. I was there for fun."
LAST HD POSTINGS:
12/12/2018 09:30 PM
Lenna's feeling in the holiday spirit, so she gives us a hot X-mas gift: her juicy teen tits and horny, tight pussy.

Lenna has full C-cups with big, pale-pink nipples. She squeezes them together and pinches her nips while saying dirty things like, "I wish you would suck on them and play with them."

She finishes undressing, revealing soft, pale teen flesh and a neatly-trimmed triangle of dark pubes on her pussy. Lenna reclines on the couch and spreads her legs, revealing her slit.

"Isn't it so pretty?" Yes, yes it is. She strokes and fingers her pristine cunt, because all she wants for Christmas is an orgasm--and that's exactly what she's going to get.
LAST HD POSTINGS:
12/11/2018 09:30 PM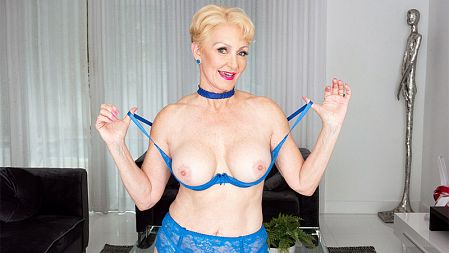 Now, it's time to get to know Seka Black, a 64-year-old wife, mother and grandmother who's ready to take the GILF world by storm. First up in this video, an in-depth interview in which this beautiful, sexy blonde tells us all about herself. Then, because she can't wait to get off, she shows us her body and fingers her pussy until she cums.

You'll notice that in the interview, Seka is wearing a man's dress shirt. The dress shirt belongs to her husband, who was sitting just a few feet away while the interview was being conducted. It looks a lot better on her than it does on him!

Seka is a mother of five daughters. She has 11 grandchildren. She's been a swinger for over 20 years and has been doing sexy web videos for a little more than two. This is her first professional shoot.

If you're wondering about her name, she got it from the 1970s/'80s porn star Seka, who was also blonde, beautiful and Scandinavian.

"I had seen her on the porn sites--my husband pointed her out to me a couple of times--and I noticed we looked very similar," our Seka said. "And she's retired and I started doing this. I love the name, I love the actress, so Seka."

The old Seka did a few interracial scenes but not many. Our Seka loves big, black cock. So that's what we gave her.

LAST HD POSTINGS:
12/11/2018 09:30 PM
You couldn't find a happier girl than Lana Ivans. She tries on her own bra, a 34E-cup, and proudly displays how her tits look packed in it. The shake test reveals that her bra is secure to carry those melons carefully.

"They look much, much bigger because I am slim," said Lana. She's unbelievably sexy. There's a natural eroticism about her. She doesn't have to work it. That sex appeal is always there. She now does webcam modeling from home.

Lana is a confident girl about sex. "I'm good," she laughs. "If a guy doesn't have a big head, I can deep-throat. I like teasing men and seeing how they look at me. I like to have fun with men. But I love sex most of all. I like to ride on top. You can burn a lot of fat with sex."

LAST HD POSTINGS:
12/11/2018 09:30 PM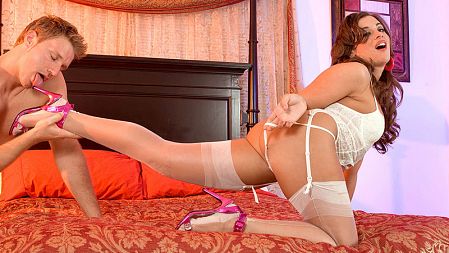 Vanessa Lee would have you believe that she is a good girl. In fact at the beginning of this video, she lets you know she is a nice and good girl. She says that repeatedly. "I am a nice and good girl." Then she lifts her skirt up and shows you her skimpy panties, ass and garter belt. Then she tells her new pal to suck her toes and bury his face in her ass. Then she gets plowed in every position possible, while cursing and screaming out all sorts of perversities. Then she demands that he cum on her feet. So maybe what she meant was that she is good at fucking and likes nice cum shots? Or that she is a good piece of ass and would like a nice stiff one in her pussy? Yeah, that's what we thought she meant, too.
LAST HD POSTINGS:
12/10/2018 09:30 PM
As Lisa Canon explains it in the opener, she's extremely nervous.

Lisa says to Largo that she loves, and gets, a lot of sex and male attention back home. Nipple sucking and licking gets Lisa horny and ready for the cock. It gets her rubbing his junk through his pants. The camera and the cameraman is forgotten. Her jitters vanish as her sex instincts and nature take over.

"I really want that big cock now. I want to suck on it, please," Lisa begs. The camera angle of Lisa eating and jacking cock while her giant 36G-cup tits dangle captures it all.

Largo has Lisa lay on the bed, her head partly over the edge so he can fuck her mouth. The ball-piercing on her tongue adds extra pleasure. All the sucking and titty-fucking prepares Lisa to get pounded and then creampied.