LAST HD POSTINGS:
03/22/2019 09:30 PM
Kiki Rainbow Gets Screwed By Her Attorney
Kiki Rainbow needs a legal brief signed right away so she goes to the law firm of Fuckem, Bangem and Screwem. The attorney is hesitant to sign anything. He wants to study Kiki's briefs first.

Kiki is nervous about this delay. She needs his signature before the day is over. Now, Kiki is a girl who makes the most of her ample assets. That's why she always wears the lowest sweaters and blouses to showcase her massive tits. Those tits are like a neon sign no one can miss seeing.

Steve the attorney is swayed by Kiki's argument that his signature is vital, not to mention being swayed by her chesty charmers. It looks like they're both going to drop their briefs in the office. Steve feasts on Kiki's nipples, burying his face inside her cleavage.

Once he manages to extricate himself from between her big breasts, he sits her on the couch and replaces his face with his dick. A good attorney always tit-fucks his busty clients first before really fucking them. Kiki holds her pale, blue-veined boobs in her hands as Steve moves up higher to fuck her wet mouth balls-deep. Kiki holds his cock in her throat for a few seconds before he pulls out and goes back in again. The blonde Brit blouse-buster makes gagging, gargling and sucking sounds while Steve pumps her mouth. Steve tells her to spit on her boobs. He has to fuck them again. While he's fucking her tits like a maniac, Steve's assistant Dom walks into the office.

Kiki smiles as Dom unzips and takes his prick out too. She takes his cock in her hand and jerks him. Steve is absorbed in fucking Kiki's tits when he glances down and sees Dom cutting in on his client session. He blows up for a second but then tells Dom to go ahead and give Kiki some. They both smash Kiki on the couch, taking turns on her pussy and throat in Steve's soundproof office. It's not known at this time if Kiki got that signature. She did get plenty of sperm samples all over her tits and lips.

LAST HD POSTINGS:
03/22/2019 09:30 PM
A Double Dick-down For A Big-titted Brunette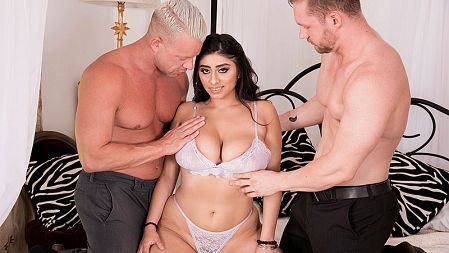 Wearing a lavender bra and panty set under a black robe, Luna walks up the stairs to the bedroom where her two-man sex party will take place. She stops by the window to squeeze her tits and pull her panties aside. She spreads her pussy open, exposing her clit. She finger-bangs herself fast and spanks her pussy while she makes that pouty face. She's a very sexy and erotic girl, but then you knew that from her threesome with Codi Vore. "It's my first time with two cocks. Be gentle with me," she quietly says.

She gets into bed and waits for her beefcake delivery to give her the hard boning she deserves. Brad Newman and Sam Shock each help themselves to a breast, sucking a nipple and fingering her. They strip her totally naked to bare feet and lay her out. Sam goes south to eat out her pussy. Brad feasts on her big tits. Then it's Brad's turn to tongue-fuck her. While Luna writhes to her lick-out, Sam feeds her his stiffie.

The guys flank Luna and give her their dicks to suck on as they play with her boobs. Sam yanks Luna by the legs closer to the edge of the bed and begins fucking her on her back, his thumb rubbing her clit. Meanwhile Brad is feeding her cock and sucking her nipples. They turn Luna over on her hands and knees and switch sides. Brad pumps her from behind while she sucks Sam's shaft. After they spurt their nuts on her, the hot, big-titted brunette does some creative and sloppy playing with their cum.
LAST HD POSTINGS:
03/22/2019 09:30 PM
There's a lot of pressure on students today, and sometimes they need to blow off steam. And if you ask us, there's no better way to blow off steam than blowing your load. Especially when a girl like Serenity Evans is your classmate. With her extra-tight, extra-phat ass, she's accustomed to carrying a heavy workload. And more importantly, she's accustomed to taking heavy loads.

"I love giving head," Serenity said. "Especially when my man starts off soft and gets hard in my mouth. I'll give a guy head for 15, 20 or 30 minutes until he gets off. Having his sticky cum on my face and in my mouth gets me really wet."

Our boy Jeremy Ace leaves Serenity with one of the thickest, heaviest facials we've ever gotten on film. But not before he stuffed his huge cock into Serenity's ass and pussy, and got her off a few times, too.
LAST HD POSTINGS:
03/21/2019 09:30 PM
Tsunami has a surprise for you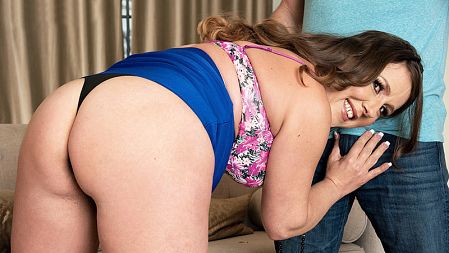 When this scene opens, 40-year-old Tsunami Foxxx is sitting on a couch.

"I have a little surprise. Do you want to see it?" she asks.

A surprise? Sure!

Tsunami's surprise isn't her nice tits. We already knew about those. It's not that she's obviously horny. We knew about that, too. Nor is it her shaved, very pink pussy.

The surprise is tucked away in Tsunami's ass: a butt-plug that's priming her for the action to come.

Tsunami plays with her pussy for a while and works the butt plug in and out of her ass, getting hotter and hornier by the second.

"I want to get fucked in the ass so hard," she tells us.

She removes the butt plug and fingers her asshole. And then her guy shows up with his cock, and Tsunami knows exactly where to find it. Pronto, she's got his cock in her mouth and making it rock-hard. Because that's what she needs: a rock-hard cock in her pussy and ass. And when the guy can't hold back any longer, his cum squirts in her butthole.

Very nice.

Tsunami is a married mother of four from Phoenix, Arizona. She enjoys hiking, swimming, surfing and swinging, not necessarily in that order. She loves women. She loves anal. She loves being here and doing what she's doing for all the world to see. This Tsunami is causing a deep rumble in our pants.
LAST HD POSTINGS:
03/21/2019 09:30 PM
Occupation: Student; Age: 20; Born: January 8; Ht: 5'5"; Wt: 100 pounds; Bras: 34B; Panties: Cotton thongs; Anal: I love it; BJs: Swallow; Masturbate: Of course.

Kyler says that she's innocent, but we can tell by the mischievous gleam in her eyes that she's full of it. "I swear," she continued. "I was a total teacher's pet in school. All the other kids thought I was stuck up. I only dated boys from other schools, so all the guys in my classes thought I was a prude who didn't date. I was having a ton of sex, but I kept that a secret.

"Nothing satisfies me as well as a hard dick in my cunt. Sure, I like getting my pussy licked, but I only want that for a minute or two. It's foreplay, not the big show. Let's suck and lick each other and then get on to the good stuff!

"I'm still living at home, so it's impossible to have boys over. My parents aren't strict or anything, but nobody wants their parents to hear them fuck. Basically, that means I have to get creative when I'm craving cock. I have a lot of car sex and park sex. The craziest place I've ever screwed a guy was in a church. It was insane!"
LAST HD POSTINGS:
03/21/2019 09:30 PM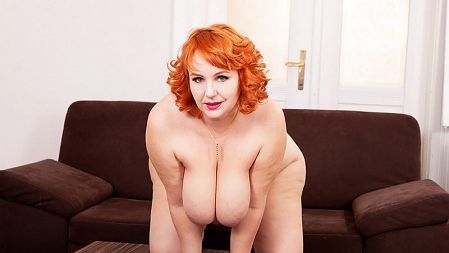 Katrin Porto enters the room and gives us an eye-full of her ripe body and big, juicy tits. Katrin turns to show her big ass in her tight red skirt. She leans forward and swings her breasts. Her big jugs look like they'll fall out of her low-cut top at any second. The slow motion begins, then the scene resumes to normal speed.

Katrin takes her tits out and plays with her nipples. She turns to show her derriere and takes off the skirt so we can study her butt cheeks. She has thong panties on. She gets on the couch and spreads her ass after sliding the panties down to her ankles.

Katrin turns and sits on the couch, now totally naked, and rubs her smooth pussy in circles, breathing heavily and making gasping and moaning sounds. She gets louder and louder. Lifting a hand to her mouth, she tastes the pussy juice on her fingers and pinches her nipples. Using both hands, she spreads her pink lips apart, rubbing faster and faster. She then sits on the coffee table and douses her body with a bottle of oil and goes back to fingering her now-slick lady slit and shining breasts.

Katrin says she masturbates often even though she gets all the sex with men she could ever want. Sometimes she watches a porn video and gets off. She also likes to play with her pussy at the same time a guy is pumping her in different positions.
LAST HD POSTINGS:
03/21/2019 09:30 PM
Veronika Vixon's first fuck film
And now, the moment we've been waiting for. After spending this week getting to know her, we now get to see 55-year-old Veronika Vixon's first fuck video. This big-titted cougar is dressed for the occasion in a very sexy dress that shows off plenty of front and side cleavage. Nice.

Veronika opens the video by talking to us. She tells us she's looking forward to being with a young boy toy (turns out the guy is easily young enough to be her son).

"I hear he has the biggest, hardest cock," she says, "and I can't wait to get it in my mouth."

Then the guy shows up. Veronika likes what she sees.

"Oh my goodness, my nipples are getting hard. My pussy is getting wet just imagining what he has in store for mama."

We know what he has in store for her, and so does she: his big cock.

"I'm gonna love it, soon as I can shove it down my throat," she says. "Put it inside my wet, tight pussy."

First, he sucks her tits, feasting on her hard nipples. Then she sucks his cock and balls, and we gotta tell ya, Veronika is an expert. That's no surprise because she used to work at a legal brothel in Nevada, but she doesn't merely suck the cock and balls. She makes love to them, making sure she gets her mouth and tongue over every inch.

This is an excellent first-time scene that ends with the dude fucking Veronika's tits and cumming in her wide-open mouth. Looks like Veronika got what she came for.
LAST HD POSTINGS:
03/21/2019 09:30 PM
Ariane Saint-Amour: Skintight Makes Right
Ariane Saint-Amour's skintight dress clings to her super-slim, super-busty body like it's Spandex. Ariane talks about how nice it feels on her. She wears glasses often in her own shoots but has never worn eyeglasses before in her SCORELAND scenes. They add an extra touch of sexy. We'll back that statement up with science. The Swiss Journal of Psychology released a study in 2011 that claims that people who wear glasses are seen as more attractive, confident and friendlier, dismantling the geek stereotype.

Ariane clears her desk to make space so she can get busy. At the half-way mark, Ariane gives herself a hand under-the-desk while her other hand plays with her boobs. "I masturbate alone, in duos, and in groups. Toys or no toys. Do other people count as toys?"

Foreplay is more than foreplay with Montreal's fetish and cosplay star.

"I like to eat balls! Blow jobs and hand jobs are my thing. Public foreplay is a plus, even more so if it's in front of his girlfriend."

LAST HD POSTINGS:
03/20/2019 09:30 PM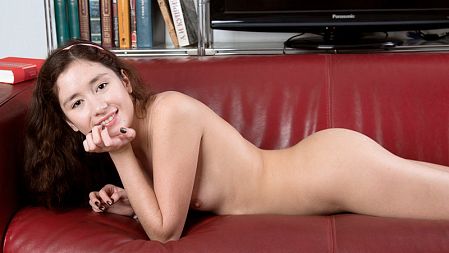 Adel invites you to a private study session. But instead of books, it's her pale, creamy thighs that are spread open. Adel wants you to study her body, so pay very close attention as she disrobes and lets her hands wander her body.

Take note of her tiny, perky tits and small, beige nipples. Pay close attention to the way she diddles her shaved pussy. Those pink cunny lips are very inviting, and so accommodating to Adel's two fingers. Imagine how nice they'd feel around a hard cock.

There's something about a tight teen body and pink pussy that works wonders for memory retention. This is one study session you won't forget!
LAST HD POSTINGS:
03/19/2019 09:30 PM
Enjoy Nikky Wilder, as the blonde with big boobs and a sexy personality delves into her erotic fantasies and erotic experiences and then transforms into the Bad, Bad Teacher right before you. She is one horny minx. Sex is a huge part of her life. How does she treat her boyfriends? What does she like to do with her lovers? Find out.

Bad teachers are good teachers. Nikky will show you what a bad teacher is all about. Nikky likes being bad. And that's good. She needs to express her badness and that's what XLGirls is for. To give bad girls like Nikky a good environment to act out her bad self and give every dude who sees her massive boners. She is proud of making men hard. Because she is a good girl.

First, Nikky shows her tits, pussy and butthole. Then she shows how she sucks cock using different-sized dildos. Then she fucks one of the studs in "First Time Dick Dancing," her first-ever XXX scene. She'll be back soon to fuck some more. Because bad teachers have a lot to teach.

"I love being on my knees," Nikky said. She doesn't mean gardening by that revelation. "I have sex almost every day. I love a good, hard pounding from behind until I'm all gooey. I love having my neck kissed, licked and bitten." That's how a teacher talks? On this campus, it is!

Wild, wild Nikky Wilder. Bad, bad teacher!
LAST HD POSTINGS:
03/19/2019 09:30 PM
Talk dirty to us, Veronika. Talk dirty to us while you show off your big tits and frig your pink pussy and get off while we get off, too. Tell us how you want us to touch you and fuck you and make you feel good. We're here for you.

This is the video debut for Veronika, a 55-year-old first-timer who lives in Utah and somehow found her way to just the right place: one of our satellite studios in Miami, Florida. Veronika is 5'4" with DDD-cup tits (depending on what kind of bra she's wearing), and in this scene, she's looking very sexy in a corset and fishnet stockings. The video is a very nice warmup for the action that's to come over the next few days, when Veronika fucks on-camera for the first time.

Veronika says the most-fun job she's ever had was working at a legal brothel in Nevada. She liked the other girls. She liked the customers. We know they liked her.

She's a woman of many interests.

"My mini-hobbies that I would love to do in my spare time would include water sports, cycling, swimming and ballroom dancing," she said. "My lifelong hobbies have been collecting and polishing precious gemstones, clothing design and custom home design. But quite honestly, I have not had any spare time in seven years as I was building a home and spa. In the last five years, I have been inundated with many children at my home, which has not allowed me to have any spare time."

We're glad she found the time to do this.

"Today's your lucky day," she says to you via the camera. "I'm here to give you a little tease. Do you like my outfit? I picked it out just for you."

Veronika is fun and full of energy. It's also true that she has a very wet pussy. Click the play button and you'll see. Or hear. Whatever. Just do it. Veronika is waiting for you.
LAST HD POSTINGS:
03/19/2019 09:30 PM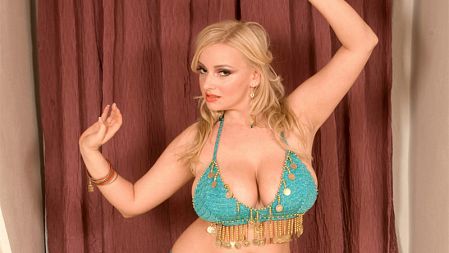 "When we learned about Sophie, TSG flew me and a stylist to Prague in the Czech Republic where we met and photographed this young and busty Czech beauty," recalled TSG photographer Jose. "Sophie is a professional dance instructor. She knows all types of dancing. Her main interest is middle-eastern belly dancing. She even told me the proper names for each move as she did them. That's how precise she is when it comes to dancing.

"So in this video and in the pictorial, Sophie's actually doing what she teaches people to do. She started in mainstream commercial modeling and transitioned into nude modeling. Sophie's very confident. She's into hair, make-up, posing techniques. She speaks a little English but not a lot.

"People ask me how I can communicate with models when they don't speak English or speak very little and I speak no Czech at all. It's actually not that difficult once we get going. I'll mirror the pose myself. I usually don't need to show them images or magazines. Sophie was very punctual, precise and prepared. She brought her costumes and accessories. She has a very clear vision of what she wants to look like on camera, which makes everything easier. Her nipples are only mildly sensitive so she was able to tug on them without any pain or discomfort."
LAST HD POSTINGS:
03/18/2019 09:30 PM
Occupation: Certified Public Accountant; Lives: Bismarck, North Dakota; Age: 43; Born: February 6; Ht: 5'5"; Wt: 113 pounds; Bras: 34A; Panties: Thongs; Anal: On special occasions; BJs: Swallow; Masturbate: Frequently.

Foxy is a career woman, a divorcee, a mother of two and this month's Bush Baby. She's also a horny minx whose clients would be surprised to see her here. "I'm very straitlaced and professional in my office. Everything has to be organized and strict in order to make it work. Outside of the office, well, all bets are off. I'm a lady in the streets and a freak in the sheets."

"My ex-husband hated pubes, so I waxed for him. After our divorce, I began growing out my bush. I had forgotten how much more sensual I feel with hair. The wet, hot, fragrance of hairy sex can't be beaten. My lovers don't complain!"

LAST HD POSTINGS:
03/18/2019 09:30 PM
Going to a strip joint with your buds can be a lot of fun. If you find the right stripper, it can be a whole lot more fun, as June Summers demonstrates.

One of the rules from the article "The Uncensored Guide To Lap Dancing" published at the SCORELAND Blog is, "The more explicit a dancer gets on stage, the better she is as a lap dancer. Chicks who are afraid to get down on the stage and spread their pussies and asses when the club allows it are not going to go the extra mile in the lap dance room. They're not going to take it as a point of personal pride to make you cum in your pants by grinding against your cock."

June proves this to be true when she gives a dude the best combo, lap dance and fuck of his life. June pulls some great moves on the pole, including an inverted blow job that blows his pipes out. June's a lusty, busty pole dancer. She really rides his swollen pole like an athlete. When they hit the stage, they really hit it.
LAST HD POSTINGS:
03/17/2019 09:30 PM
Aileen Ghettman talked to SCORE about her life as a dominatrix and all-around ballbuster. She certainly deserves the title Ballbuster #1. While we're not really interested in cock and ball torture--this is SCORE not GORE--we were very interested in seeing Aileen get fucked nice and hard. And that she did in her first DVD movie, Boob Science.

Here's the backstory to this scene from Boob Science. Two geeks Dexter and Sheldon, couldn't get fucked in a house full of drunk whores. When Sheldon gets a bad rejection from Eva Notty, they turn to boob science. Dexter creates a computer program that explosively brings a SCORE fantasy girl to life. Her name is Mandy (played by Daphne Rosen), and she has a lot of work to do to get the boys some tits, pussy and ass. In this scene, Banging The Boss, Mandy magically arranges for Dexter, a bumbling delivery boy, to drill his fire-breathing bitch of a boss Aileen, a woman who could melt steel with a look. Dressed in a hottie business suit that can't conceal her fantastic curves, Aileen finds herself ordering Dexter to finger her pussyhole. She doesn't know why. All she knows is that she needs cock, bad. Dexter's cock! Because of Mandy's power.

This was Aileen's first XXX boy-girl and she really took to porn like she's been doing it for years. It's big-tit fucking at 100 degrees in the shade! Aileen was so hot in Boob Science, it was a miracle that the office couch didn't catch fire. Boob Science is now on sale at the eBoobStore. Own it today!
LAST HD POSTINGS:
03/16/2019 09:30 PM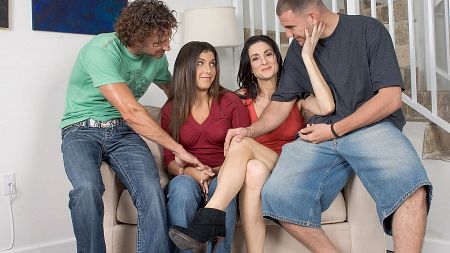 One of our photographers was on-location when this horny foursome shot their scene for the sizzlin' MILF Bait DVD. Although he really wasn't scheduled to, our man shot these photos which are too fuckin' hot not to share with you. Tiffany, 19, and Lake, 43, got down to business right away, eagerly sucking cocks, engaging in a bit of lezzie-love-play and then screwing both studs and cumming before receiving the guys' hot and sticky payloads of man juice.

Imagine you're one of the guys. (Yeah, we know, that's every male NN reader's dream.) You get to fuck a teenager and an experienced 40something-year-old babe in the same session. One minute young Tiffany has your cock balls-deep in her young mouth and she's sucking it like there's no tomorrow, then a minute later your cock is balls-deep in Lake's throbbing cunt as she meets every one of your thrusts. A few minutes of doing Lake and then you're banging Tiffany's tender twat. How long do you think you would last?

You can see what's going on, so we won't bother telling you. There's something mesmerizing about a tight pussy crammed with cock, so a double dose of that makes any reading a waste of time. This was like a fucking battle of the ages where everybody was a winner.
LAST HD POSTINGS:
03/16/2019 09:30 PM
Cheryl Blossom: Boobs-A-Poppin' Top Droppin'
Cheryl Blossom takes over the kitchen and sets off a popcorn explosion. Your corn would also pop in her seductive presence. We're lucky the fuses in the kitchen didn't blow and shut off the lights. Cheryl has superpowers that she's only begun to explore. Fortunately, she uses them for good.

"A local webcam model in Russia helped me to recognize that a big chest can be pretty and beautiful," said Cheryl. "Before, I had never heard that from guys or other people. For example, my granny thought that big chests are not beautiful and was always telling me to hide them."

Big-boob prejudice knows no borders. Our fight to end this continues.

Even the flirting in Russia is like a passage from a novel. "A conductor on a tram said to me, 'I wouldn't only get you a star from the sky. I would become a star in the sky for you. By the way, my son is 30 years old today and I'm 58.'"

Cheryl brings out the poet in every man.
LAST HD POSTINGS:
03/15/2019 09:30 PM
String Bikini For A Thick, Slick Chick
Veronica Bow won't string you along in her string bikini. She's built for action and sex. Question is: would Veronica wear this at the beach or at a pool? "Probably at the pool," Veronica replied.

A former librarian, Veronica shakes her big tits and fleshy ass any chance she can get. Since she's a at-home web model, there's a lot of shakin' goin' on and more every day. Veronica oils herself up front and back and that takes plenty of oil. Once she is totally saturated, the slow motion boob bouncing kicks in.

We knew the lawn guys next door were trying to peek through the fence when one of them turned on his leaf blower. Veronica went inside to spank one out with her fingers so they couldn't get an eyeful. Sorry, boys.
LAST HD POSTINGS:
03/15/2019 09:30 PM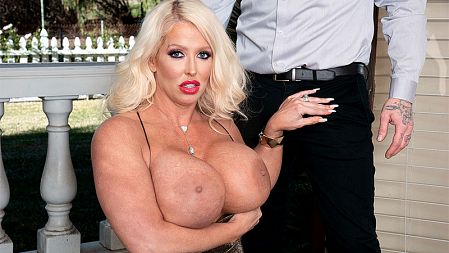 Alura Jenson talks to our photographer Jose before Johnny Goodluck enters the picture for her anal fuck scene, her first in two years.

Alura hasn't been at SCORELAND since 2012. The U.S. Navy veteran (who joined on her last day of high school) earned a degree in Exercise Kinesiology after her service and became an instructor in that field. She grew up in a large Catholic family and has kids of her own. Alura's always had a hot sex life so getting into porn in 2011 was a natural move after she began stripping at the Palomino in Las Vegas. Porn was her outlet because it's safer

"I've been with a lot of girls," Alura said in 2012. "I absolutely love women. I'm not gay but that's only because I love dick so much."

In the years since she appeared at SCORELAND, Alura started her own company, attends fan-based adult conventions, performs in many sex scenes of every kind from interracial, gang bangs and BDSM to trans and studied the good and the bad of the porn industry to avoid the pitfalls and the traps others can fall into.

Alura dated and married one of her fans. That relationship ended when he became controlling and didn't want her fucking black guys. As an independent woman, Alura was having none of that manipulation.

Alura's long-term plans are to direct her own videos and spend more time on the other side of the camera. Producing a large bisexual orgy scene that would include trans men and women is her dream project.
LAST HD POSTINGS:
03/15/2019 09:30 PM
A Rump By Any Other Name Would Still Be Sweet.
Madison Rose is a bartender from NY who has curves for days and a horny streak like no other. This hottie likes to get frisky in public and loves having her asshole thrilled, filled and drilled. When she is not busy slanging drinks, she likes to hang out with guys who are laid back and know how to treat a lady. She told us that she likes to cook and fuck, and in that order. In this scene, she shows off the latter. She sucks and gets fucked and then gets a healthy dose of cum. This rose is definitely in bloom and loves it face down and ass up.