LAST HD POSTINGS:
05/20/2019 09:30 PM
Cream Pie Delivery For Jasmine Jones
Tony does not often drink scotch. But when he does, he likes it served by good-looking women with huge tits that he can screw right then and there. Perfectly understandable.

You see, at this private club, guys and gals can bang each other without any hassles. After Tony gets his drink from Jasmine Jones, he throws a pitch at her and she catches it. Pulling out one big boob from her dress, Jasmine brings it to his face for him to suck on. Now look carefully at Jasmine's right nipple before and after he sucks it. It hardens and noticeably elongates immediately after he sucks it. When she takes out her left breast, that nipple is also long and hard. If you saw Jasmine's slo-mo breast bouncing video, the super-sensitivity of her nipples is talked about and seen in close-ups.

While Tony is enjoying a mouthful of big boobs, Jasmine is unbuttoning his shirt. When she gets to his trousers, his horn is already hard and ready for Jasmine's wet lips. Jasmine kneels as he sits and licks the tip, then opens her mouth wide in an impressive show of deep throat cock swallowing. Jasmine Jones has award-winning blow job skills.

Tony undresses Jasmine to her stockings and heels and lays her out on the couch. It's time to fuck. Spreading Jasmine's legs wide, he finger-bangs her shaved, wet pussy and then finger-bangs her brown-eye. First he will fuck Jasmine's hot, tight cunt, then switch over to fill her asshole with the stiff man-bone she dearly loves.

(Please note: Our videos and photo sets are shot separately. In the video, Jasmine's creampie is in her pussy; in the still set, the creampie is anal.)
LAST HD POSTINGS:
05/20/2019 09:30 PM
Warm Night Cream For The Creamy Skin Of Siri
You may have a question for Siri. She'll answer it in all the best ways. With her luscious lips and tongue. Her nubile hips. Her squeezable, juicy tits. Those breasts are works of art created by mother nature. Siri is a young, beautiful swinger with a fresh, wholesome, mid-American look and she is also another bodacious SCORE wife in the style of Kelly Christiansen and Jayden Prescott. She's hot and horny all the time and eager to experiment in sexperiments, so she came to SCORE to play out her fertile desires.

Siri loves showing off her beautiful, naked body and sport-fucking guys on-camera. She does it all, and what she hasn't done yet, she'll most likely be doing in the future. Siri can't help but say nasty things when she's doing the wild thing, as you will hear. And yet when the fuck words flow out of her mouth, it sounds like poetry. Do butterflies, deer and love birds follow Siri when she walks in the park?

This is Siri's second XXX video and, as it opens, Siri is wearing an outfit that suits her style and personality: A red plaid top knotted right under a red bra, and skin-tight jeans. Siri gets undressed by her new fuck buddy, a total stranger whom she needs just for his cock. Siri eagerly climbs on top so he can suck her natural 32HH tits. The blonde beauty strips completely nude and lays back on the bed, legs spread wide open, her gorgeous shaved cookie waiting to be penetrated and fucked by a stiff prick. Her eyes gleam and send out the blink-code, "Fuck me." But first, Siri is eager to be eaten out. Watch her tits shake and roll as her body gyrates while her pussy is licked.

What do the guys who take the time to comment say about Siri? "Siri's curves are like none other! Thank you for finding her and showing her! I am totally looking forward to seeing her more."

"What a beautiful girl! Just when I think you've come up with all of the perfect bodies you can, you spring another one on us. Great smile, amazing body, creamy-white blemishless skin."

"I am absolutely in love with this chick! More of her please."
LAST HD POSTINGS:
05/19/2019 09:30 PM
It's Karina's World. We Just Live In It
One of the editors wrote, "Karina's smiles are very inviting. She instinctively knows that looking serious, looking poker-faced at the camera, the 'Top Model' television school of haughty body language, is not her and not what her fans like. Karina positively beams when she poses, no matter what type of photograph or video she is making. She radiates joy and happiness and the camera captures that."

SCORE magazine Vol. 28 No. 1 was dedicated to Karina with a cover composed of three images and a ten page spread.

"Karina was only 22 years old and living in Brno, Czech Republic when she debuted. She couldn't have guessed that her schooling would be temporarily sidetracked by her big-boob modeling career."
LAST HD POSTINGS:
05/18/2019 09:30 PM
Katy Ann: Slim & Stacked World Domination
When a SCORE editor spotted Katy Ann, he knew.

So he asked her friend Amber Alena if Amber thought Katy would be interested in coming to SCORELAND. Amber contacted Katy and she accepted the invitation.

"I did some regular modeling, but I would go home and do dirty webcam shows for fun," Katy Ann said. "Some people might know me from Streamate, but I've decided to branch out more. SCORE actually found me on Twitter (Katy_AnnXO). I'm Twitter friends with Amber Alena. She let me know that an editor liked my looks and wanted to know if I'd like to pose for SCORE. And you invited me to shoot, so here I am, and it's been so much fun."

Katy has a very sultry, seductive voice to go with her very sexy, shapely body and beautiful face. She speaks throughout this video and truly has the gift of sexy talk.

"My boobs are about 30J, and for people who really like implants, that means they're about sixteen-hundred CCs. These are adult-sized boobs. Weapons of mass destruction. They're so big! World domination. I'm coming for you!"

Our kind of world domination.
LAST HD POSTINGS:
05/18/2019 09:30 PM
We love when we get to watch big-tittied girls sucking fat cocks and getting their pussies stuffed. What's that? You do, too? That's weird. Well, you're going to love watching this scene with Autumn. You can tell that she loves letting loose on dick by the way she tries to fit it all deep into her mouth, puts on a mouth-watering pussy show and, last but not least, takes a huge load of cum on her pretty face. Oh yeah, she's a dirty girl. She even fingers and plays with the strings of cum splattered on her chin.
LAST HD POSTINGS:
05/17/2019 09:30 PM
When they do a hardcore scene, the XL Girls need a fuck buddy who really loves big tits. This is critical. That's where JMac cums in. When he saw young and cubby Amber Stevens and how big her tits are, he charged up immediately. Her ass added to his inspiration.

Amber Stevens, meet JMac. JMac, meet Amber.

Amber ate JMac's cock like she fell in love with it. As she sucked him off on the couch, her big ass in the air, he played with her butt and was inspired to penetrate her pussy, first from behind. He fucked her hard and fast, slapping her ass.

Turning Amber over on her back, JMac began drilling Amber's shaved pussy, and within a few minutes, she groaned and squirted all over his dick.

Amber shifted her body and raised one leg up so JMac could fuck her some more sideways. She sat on him in cowgirl and bounced, then knelt over him again and put his cock back in her mouth. She sat back on him again, this time with her back to him. Her boobs bouncing wildly.

It was time for his signature fuck position, the pile-driver. Amber assumed the position. JMac began fucking her and then added something different. Using the couch for support, he did the pile-driver from a side position, his dick fucking her pussy deeper and harder.

Amber groaned "Oh, god" and kept groaning as he rammed into her. He asked her if she wanted his cum and when she knelt on the floor, he jerked on her outstretched tongue, some of his nut dripping on her big hooters. She licked the cum off her fingers, smiling at the camera.
LAST HD POSTINGS:
05/17/2019 09:30 PM
Wow! Amber Alena is every inch a major hottie, the kind of pretty, big-breasted girl who makes guys boob drunk. She also has a very sweet, almost shy personality and a soft, gentle voice.

This is not just Amber's first time with two studs on-camera. It's an epic hardSCORE scene. Amber loves sex and it clearly shows in her facial expressions, her eye contact, body language and how she moves and grinds.

Before the action begins, Amber chats with the director about what's going to happen. She's wearing the perfect "too" dress: too tight, too short and too low-cut. Our director asks Amber what's about to happen. Amber replies that it's going to be exciting, fun and intense. She giggles and smiles, wide-eyed with excitement. You can almost see her body tingling with anticipation.

The guys join in and flank Amber. One of the topics they talk about is her boob size. They try to guess Amber's cup size. Amber rubs Sam's junk while Codey rubs her breasts.

The actual scene then begins with Amber walking to the door to let Sam in. Codey is on the sofa. After some small talk, Amber is all for sharing her slim and super-stacked body with them. Share and share alike.

Amber gives each man a sloppy blow job and they take turns dicking her down, fucking her big tits and tight pussy, enjoying a busty, lusty afternoon and dropping loads all over her.
LAST HD POSTINGS:
05/16/2019 09:30 PM
Briana Black's Toy Time Titillation
A vision of raw sexuality in her sheer lingerie and fuck-me heels, hot chick Briana Black invites you to watch her "big, big, big, big cum" show. She sucks on two giant, cock-shaped dildos to get them wet for her bushy pussy and her big tits. As she sticks one fuck-toy deep inside her pink girl-slit, Briana sucks on the other.

Briana has a lot of diverse sexual interests, many of them not-vanilla. She listed them for XL Girls.

"I'm into impregnation, cuckolding, spitting, group sex, gang bangs, 9 1/2-inch big dicks, incest role play, DDLG, ABDL, BDSM, impact play, breath play, female domination, submission, verbal humiliation, public humiliation, water sports, emotional and physical masochism, objectification and a lot more. I haven't been able to play with all of these fetishes in real life but they are all in my fantasies. I am a kinky girl."

We had to look up some of these. ABDL means adult baby diaper lover. Impact play is spanking or whipping, caning and so on; basically hitting someone, usually on the butt.
LAST HD POSTINGS:
05/16/2019 09:30 PM
Fuck video games! Fuck Cora's ass instead!
When this scene opens, Conor is playing video games in his best friend's bedroom. Cora, who's 46 years old, walks in, looking for her son. Conor doesn't take his eyes off the game. Meanwhile, there's a hot MILF in a short skirt and cleavage everywhere sitting next to him. Dude, wake up!

She strokes his hair. He still doesn't take his eyes off the game. Dude!

Then she strokes his body and comments on it.

"What are you doing?" he says. "You're Isaiah's mom."

"Yeah, and your mom and I are best friends, too," she says.

She wants to play a different kind of game. He suggests multi-player.

Dude! Wake up!

She takes off her dress, and he finally plays with her tits. Then she gets on all fours so he can finger her asshole. She sucks his cock. He fucks her hairy pussy. And then he fucks her tight asshole. Talk about multi-player! There are a lot of fun games you can play with Cora.

He cums on her ass. Cora's son still hasn't come home, but everybody's happy.
LAST HD POSTINGS:
05/16/2019 09:30 PM
Occupation: Makeup artist; Age: 28; Born: December 2; Ht: 5'10"; Wt: 125 pounds; Bras: 32C; Panties: Thongs or boy shorts; Anal: I've never done it; BJs: Swallow; Masturbate: Twice a day.

London is a whole lot of fun. She's always smiling, has a great attitude, is whip-smart and loves to please. She's got a college degree, and she loved going to school. "I had the best time ever in high school and college. I was independent and did whatever I wanted. I didn't sleep around a lot, but I did have fun with the boys whenever I wanted."

We asked London if she had any special skills. She responded, "I can connect with everyone. I crack jokes and share anecdotes until we get a conversation going. It's a helpful skill, and it's gotten me more than my fair share of dates with guys. I asked my last boyfriend out on a date by asking him what his favorite strip club was, then I suggested that we go together. We had a good time looking at the girls."
LAST HD POSTINGS:
05/16/2019 09:30 PM
Lisa Marie's special sex lesson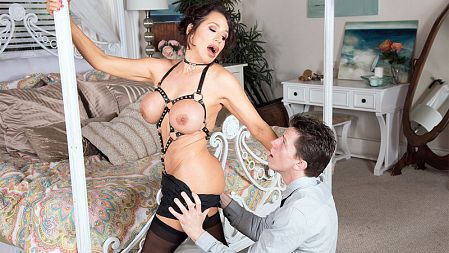 Ryan is late, but Lisa Marie Heart doesn't mind. She's ready for him.

"Are you ready for your lesson?" she says.

She unbuttons her top revealing her big, fake tits in a fetishy outfit. Actually, outfit is a generous word for what she's wearing. It covers nothing, not even her pussy. What kind of lesson is this going to be? A sex lesson!

"I'm going to give you a lesson you're never gonna forget," she says. "I'm going to teach you how to make love to a woman. How to play with boobs like this. Not too hard and not too soft. I'm going to teach you everything you need to know. I'm going to teach you how to lick this pussy, and I'm going to suck your cock really good and you're never gonna forget."

Lisa Marie, who's a mother and a grandmother, is an excellent cock-sucker. She's good at sucking balls, too, and she loves tasting her pussy on Ryan's cock. She gets fucked hard every which way in her old, shaved cunt and opens her mouth for his cum. Looks like this lesson was a success!

60PlusMILFs: What kind of guys come up to you in a bar? Older? Younger?
Lisa Marie: I don't look my age, so mostly younger.

60PlusMILFs: What are you best at sexually?
Lisa Marie: I'm good at blow jobs. I really do like the way a dick feels in my mouth. I don't do blowjobs with condoms. Who wants to suck a condom? It ruins the experience. I also give lessons to wives if they ask me to. I give lessons in giving blowjobs.

60PlusMILFs: What are these women doing wrong?
Lisa Marie: They just don't know what they're doing. They don't watch porn. They don't open their mouths enough. I like to play with the balls. I use my hands, my mouth. It's an all-over experience. And I've given my girlfriends lessons in blow jobs. The key is to make a lot of eye contact and keep your hands moving at all times. Feel their body cues. Some are really shy. I've had quite a few virgins, so you have to take it slow with them.

60PlusMILFs: What's the oldest virgin you've had?
Lisa Marie: Twenty-four. And I had sex with a guy who was 80. He had no trouble. He came like three times.
LAST HD POSTINGS:
05/16/2019 09:30 PM
Everything Lana Blanc does is erotic and sensuous. Trying on bras becomes a sexy experience for Lana as this video proves. Lana purrs like a kitten as she tries on each model. If she connects like this on-camera, imagine what it's like in person.

Lana's nickname on social media is Jetset_kitten because she loves to fly and travel to new countries. "I want to live abroad for an extended period of time. I've traveled extensively but have yet to base myself somewhere else other than the States. I'm a foodie so I enjoy fine dining. I also enjoy museums and luxury travel."

When Lana visits a new place she likes to explore the area. She went cave exploring in the Azores and loves to visit art galleries. Adventure is her life.
LAST HD POSTINGS:
05/15/2019 09:30 PM
Natalie teases you with her tongue as she sensually licks and sucks a lollipop. Clearly she's good with her mouth. She rubs her pussy through her onesie, pretending that her lollipop is a nice, hard cock.

This curvy blonde takes off her PJs, revealing a perfect handful-sized pair of boobs and a lightly fuzzed twat. She drags a candy bracelet over her slit, making it even sweeter than it already is. If she fucks as good as she masturbates, we're in for a real treat. Stay tuned to find out just how amazing she looks cumming on a cock.
LAST HD POSTINGS:
05/15/2019 09:30 PM
How to please a MILF, by Beth Sinkati
Beth Sinkati, a 57-year-old wife, mother and grandmother who was born in New Jersey and now lives in Florida, has worked in professional environments her whole life. She's been in digital marketing. She's been an office manager and a bank representative. That's pretty normal. But now Beth is doing something most women don't do.

She's fucked on-camera. And now she's going to get off for us on-camera. She going to show us her skinny fuck-toy body with big, fake tits and then she's going to deep-finger her pussy. And get this...

"I'm here to be your teacher today," Mrs. Sinkati says at the start of this video. "I want to teach you how to treat a woman, and not just how to treat a woman. How to treat a woman my age. Someone who knows what she's doing. Someone who knows what she wants. Someone who has expectations that you need to meet. I want you to follow my instructions."

No problem there.

Beth is very much a woman-next-door. She isn't a swinger. She isn't a nudist. But she has done a few wild things, "like having sex in the produce section of a supermarket I used to work in. It was during off-hours with a hot college student when I was much younger." Her fantasy is "to do it in the Great Pyramid of Giza. I wonder if the sexual energy would be amplified."

In our opinion, the sexual energy is amped up wherever Beth goes. She doesn't need no fuckin' pyramid for that!
LAST HD POSTINGS:
05/14/2019 09:30 PM
Jordan likes obedience and she likes to bring men pleasure with her gams. That's why in this game of pleasure, she calls all the shots. Donning her sexiest dominatrix attire, Jordan seizes matters in her own hands and takes her man to heel. When her lazy boyfriend plops down on the couch for another long night of TV watching, she lays down the law. She punishes him by making him lick her shoes and feet and then commands him to taste her core. Sometimes, in order to get a man to worship you and appease your hunger for satisfaction, you have to be stern with him. Judging by the size of his load, it seems Jordan's boyfriend has learned his lesson.
LAST HD POSTINGS:
05/14/2019 09:30 PM
The director nails it when he sees Harley Ann. Harley Ann is indeed a "cutie-pie." Sweet, charming and adorable. Makes a guy want to squeeze and hug her. Lick her all over. Harley Ann knows how to dress that sexy body in a tight cardigan and short skirt. The girl knows. She knows how to undress to impress.

Harley also knows how to smoothly unbutton that cardigan and talk dirty, pop her bra off and get hands-on with her sweet tits. She then turns around, sticks her whooty butt in the air and rubs her tasty-looking taco.

Harley sticks her fingers in her cookie jar and makes her love button hard. Then she turns around, spreads her legs wide and plays that special instrument girls play called the "clit-ar," making horny music. Harley Ann licks her fingers to taste her flavorful girl juice and tongues her nipples to make them stiff.

LAST HD POSTINGS:
05/14/2019 09:30 PM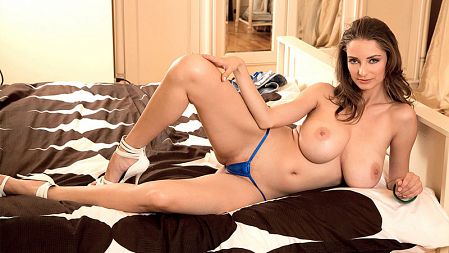 Having the perfect big-boobed super 'n' stacked body for a string bikini and Daisy Dukes, pretty Estelle Taylor basically fell into our lap while SCORE was in Bucharest to photograph Roxanne Miller and Gya Roberts.

The former ballet student turned model and university student has a fawn-like, delicate look and was a popular covergirl for the December '12 issue. Reader reaction ranged from "Stunning. She is the best find of 2012. Her breasts are simply perfect!" (by RickyRoo) to a few of the usual "Where's the pussy?" comments (not unexpected). But there were many more positive comments, letters and emails than anything else. "Estelle Taylor is one of your best discoveries in some time," wrote Steve. "This is the type of natural woman I like to see in SCORE. She has the right proportions, nice tits and a great smile. Also, she looks into the camera and hides her pussy to give the reader a chance to imagine what is hidden beneath her crossed hands."

It's been a while since SCORELAND featured a shower vid. Like they say, Estelle cleans up well.
LAST HD POSTINGS:
05/13/2019 09:30 PM
Mazzaratie Gets A Cream Filling
"Oh, yes," Mazzaratie Monica says. "Let me jiggle that white ass on your face."

She didn't have to ask our stud Rocky twice as he devoured her 52-inches of booty. Ass like that is made for ass-clapping and booty-popping. Mazzaratie knows all about that from her time dancing at strip clubs, and she shows off her skills here.

Rocky is a man who needs to get his fill of booty, though. And he makes sure Mazzaratie's is ready to be filled as he sticks one, then two, then three and finally four fingers up her asshole.

"Oh, I don't know if I can do four," Mazzaratie says before he slips his fourth finger in.

"Oh, you can do four," Rocky replies as he stretches her out even further.

Mazzaratie hops on his cock and causes a booty earthquake as her ass bounces off of him. This is only a taste of what's to come. Gotta get that rock-hard cock nice and wet before slipping it into her ass.

"God, I love your fucking dick in my ass," Mazzaratie says. "I love watching that go in my ass. That big, fat dick inside my white ass."

After getting filled, Mazzaratie gets the perfect creampie her ass was made for.

LAST HD POSTINGS:
05/13/2019 09:30 PM
"Would you guys like to come inside my apartment?" big-bust superstar and SCORE centerfold Brittany O'Neil (SCORE Threesomes on DVD) asks JMac and Juan at her front door. "I'd like to fuck you. And I'd like to fuck you," Brittany says, squeezing their junk to make it clear. A less direct message to these two would be a giant, blinking neon sign.

Three's Not A Crowd is the first threesome that Brittany has done with two studs. Miss O'Neil once teamed with the awesome mega-buster Angelique in London to lay waste to one guy but this was her first time with two dudes on her.

Her dates sit on the couch as Brittany changes into some sexy lingerie in her bedroom while they whisper about the opportunity that they have been handed. She returns, looking sexy-generous and ready for a dirty couch-ride. They lay back as she strokes their wood, one cock in each experienced hand. This is a lady who wrote the handbook on nasty porn-sex and she is only getting warmed up.

They stand up to get sucked good by her trained mouth, their dicks licked like lollipops by her tongue dripping with saliva. The non-stop marathon of cock sucking, breast-sex and pussy drilling begins. These guys have laid pipe with scores of SCORE Girls of every age and shape but they hadn't experienced the intense pleasure that busty Brittany O'Neil has to offer.
LAST HD POSTINGS:
05/12/2019 09:30 PM
Who Doesn't Have A Big Hart-on For Karina Hart?
"I think I was the bustiest girl in school except for one bigger girl, but I really can't say" Karina Hart recalled.

"I never realized that I had bigger breasts than the other girls so I was never thinking about it. I did not compare myself. I guess the boys used to pay more attention to me than the other girls, but I didn't know why."

Of course, Karina knew why but she is a modest person.

Every TSG staff member who met Karina in person had a story to tell. She was never photographed in Miami so only a few actually met her in person. Maria, a former editor at V-mag, wrote, "Karina was one of the first models that I met on the Hungary for Hooters trip and here's a fun fact: she and I shared the same bottle of shampoo the whole trip. Which is not hot at all. But have any of you ever shared shampoo with Karina Hart? Nope. So let me have my moment. We also chit-chatted about music. She is a big fan of rap, especially Tupac, and made jokes. She is a charming woman. And she is just as hot in person."